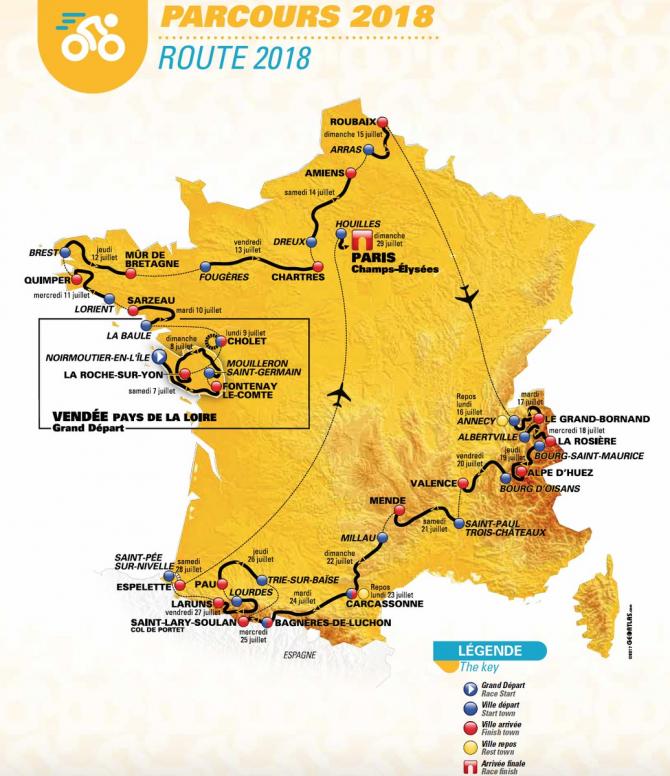 (AP) – The 105th edition of the Tour de France starts on July 7 and opens with a flat 189-kilometer (117-mile) route for sprinters from Noirmoutier-en-l'ile to Fontenay-le-Comte in the Vendee region, on the Atlantic coast.
With the team time trial returning after being omitted the last two years, Froome's Team Sky will be confident of creating early time gaps on Stage 3 – a 35-kilometer route starting and ending in Cholet in Western France. But Sky can face tough competition, because Dumoulin's Sunweb team is the reigning TTT world champion.
The 2018 Tour route, which goes clockwise, features 25 mountain climbs. Eleven are in the Alps, four in the Massif central region and 10 in the Pyrenees.
The difficult climbs start on Stage 10, the first of three straight days of grueling Alpine ascents. But organizers have preceded that with a tricky ninth stage that could shake up the peloton. It takes riders over 15 treacherous cobblestone sections: the highest number since the 1980 Tour, with nearly 22 kilometers altogether.
The Roubaix cobbles may perhaps trouble Chris Froome, although Christian Prudhomme thinks the British rider can handle anything.
"The leaders of the Tour have the ability to adapt. We've seen that Chris Froome has a range of abilities much wider than people said," Prudhomme said. "He's intelligent and hard-working. He keeps on winning in a different manner than in previous years."
Even though Froome will be 33 on next year's Tour, Prudhomme still thinks he can improve.
"I don't think we've seen everything that Froome has to offer," Prudhomme said. "He is strong in areas we didn't think he was."
The cobbles are followed by a rest day on July 16, and Froome had better make the most of it because the Alps start brutally the day after.
Stage 10 on July 17 has four difficult climbs on a 159-kilometer route from Annecy to Le Grand Bornand. They include a punchy ascent of Montee du plateau de Glieres, featuring for the first time.
"Six kilometers with an 11.2 percent gradient is monumental," Prudhomme said.
The third day of Alpine climbing begins with Col de la Madeleine, then Croix de Fer and ends with an ascent of l'Alpe d'Huez: three of the Tour's most well-known.
The three tough days of climbing in the Pyrenees starts with Stage 16 on July 24: a daunting 218-kilometer route from Carcassone to Bagneres-de-Luchon that follows the second rest day.
Stage 17 is short at 65 kilometers but cruel, with three consecutive nasty climbs, ending with an attack up Col de Portet.
Stage 18 is relatively flat but the next day's third and final day of climbing on Stage 19 has four ascents and then ends with a potentially treacherous 20-kilometer descent that will test the concentration of tired riders.
Whoever is freshest after that will have a better chance of challenging Froome in the time trial.
The 21-stage race ends with its customary processional Sunday finish on the Champs-Elysees.
ROUTE FOR THE 2018 TOUR DE FRANCE:
Stage 1 – Noirmoutier-en-l'Ile to Fontenay-le-Comte, 189km
Stage 2 – Mouilleron-Saint-Germain to La Roche-sur-Yon, 183km
Stage 3 – Cholet to Cholet, team time trial, 35km
Stage 4 – La Baule to Sarzeau, 192km
Stage 5 – Lorient to Quimper, 203km
Stage 6 – Brest to Mur de Bretagne, 181km
Stage 7 – Fougeres to Chartres, 231km
Stage 8 – Dreux to Amiens, 181km
Stage 9 – Arras to Roubaix, 154km
Rest day in Annecy
Stage 10 – Annecy to Le Grand Bornand, 159km
Stage 11 – Albertville to La Rosiere, 108km
Stage 12 – Bourg-Saint-Maurice to L'Alpe d'Huez, 175km
Stage 13 – Bourg d'Oisans to Valence, 169km
Stage 14 – Saint-Pauol-Trois-Chateaux to Mende, 187km
Stage 15 – Millau to Carcassonne, 181km
Rest day in Carcassonne
Stage 16 – Carcassonne to Bagneres-de-Luchon, 218km
Stage 17 – Bagneres-de-Luchon to Saint-Lary-Soulan, 65km
Stage 18 – Tries-sur-Baise to Pau, 172km
Stage 19 – Lourdes to Laruns, 200km
Stage 20 – Saint-Pee-sur-Nivelle to Espelette, individual time trial, 31km
Stage 21 – Houilles to Paris Champs-Elysees, 115km