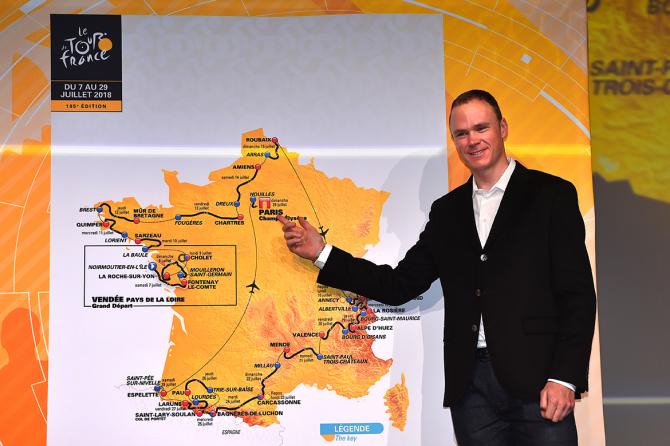 Chris Froome believes the 2018 Tour de France could be 'torn to pieces' in what looks set to be a dramatic first week in northern France.
Speaking from the route unveiling in Paris, revealing one of the most varied and challenging Tour tests in recent memory, the four-time winner highlighted the opening week as crucial – before the race even hits the mountains.
Froome said: "It's tough. I wouldn't expect any less from the Tour de France organisers – especially the first nine days. It's going to be very nervy and dangerous up in the north west of France before we hit any of the big mountain stages. The wind could be a massive factor up there and with the GC being so close we could see the race torn to pieces.
After a 35-kilometre team time trial on stage three, the race will tackle 22km of cobbles on what is sure to be a pulsating 154km stage nine, finishing in Roubaix.
Speaking about the cobbles, Froome continued: "You could see a lot happening that day. Then there's a stage [17] with a gravel section in it – there's going to be a lot to get ready for in that sense."
With the amount of riders on a Grand Tour team down from nine to eight in 2018, team selection becomes even more important than usual. And Froome believes the correct combination of riders will be crucial, considering the testing first half of the race.
He said: "It's definitely going to be a big consideration coming into the race – having a team that will keep me safe up north. Having said that we don't want to compromise the team we're going to have once we hit the Alps and the Pyrenees.
"I imagine, in terms of selection, it will be guys who are very versatile who will be the obvious choice – especially with the team time trial playing a big part in the race."