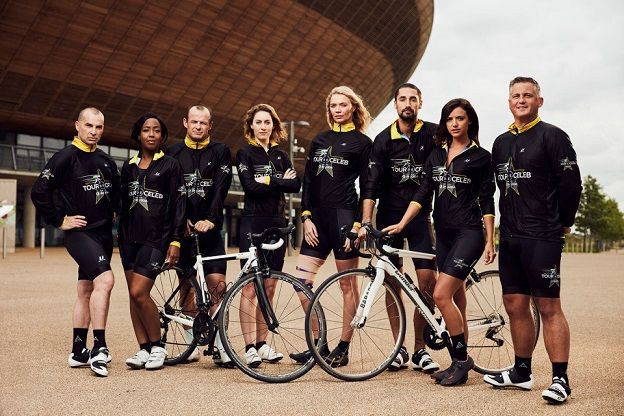 A new reality show in Great Britain is following eight celebrities on their journey to train and ride the Etape du Tour, a cyclosportive event that allows amateur cyclists to race over the same route as a Tour de France stage. Each participant must ride 25 hours each week in preparation for the mountainous 140 kilometre event.
The show follows reality TV stars Hugo Taylor and Lucy Mecklenburgh, choreographer Louie Spence, TV presenters Jodie Kidd and Angellica Bell, and sports stars Austin Healey, Darren Gough and Amy Williams. Of course none of which have ridden a bicycle in any serious manner, resulting in the promised thrills, spills and a few tears.
Louie Spence stole the show in comparison to the others. When told he would have to ride 60 miles, he replied "don't be silly, I can't even say 60!"
Of course the professional athletes are having an easier time with the fitness part of the show, but even they are going through what all rookie cyclists experience, including trouble clipping in and being dropped.
Social media is delighting in the trials and tribulations of the contestants.
@captain_canaway @roadcc very true!

— Gary Booth (@GBooth74) 29 noiembrie 2016
Gotta love it, crying in the rain, dropping you mates, cursing (some) drivers and your mates, just another Sunday in the saddle #TourdeCeleb

— Simon MacFeeters (@The_Jambuster) 28 noiembrie 2016
OK, so #TourdeCeleb is like other reality shows but contestants leave each week when they die?

— Simon Warren (@100Climbs) 28 noiembrie 2016