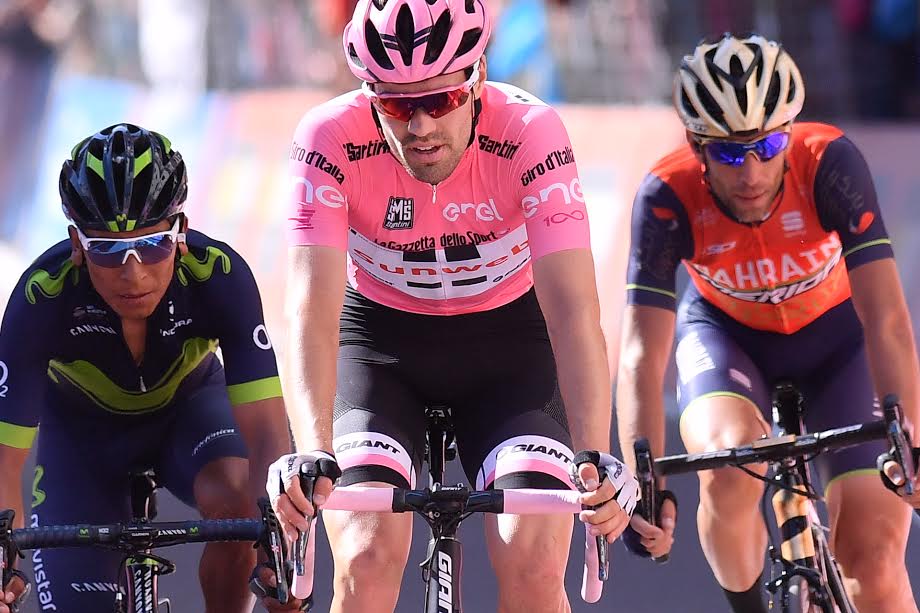 On a climb-laden day in the Dolomites, Nairo Quintana launched his first attack with three climbs before the finish, a move that looked to be a good one as Tom Dumoulin was distanced.
However, the race leader paced himself perfectly to close the gap over the next couple of kilometres. With 7km remaining, Quintana joined forces with Anacona to attack but Nibali closed the gap, with Dumoulin on his wheel, and the Dutchman proceeded to tease his rivals with a number of attacks of his own.
"They are only focusing on me and trying to make me lose instead of trying to win", said Dumoulin.  "In the last moments, they lost a lot of time to the other competitors. I really hope that riding like this they will lose their podium spot in Milan, that would be really nice, and I would be really happy."
"It would be a dream scenario if the other competitors didn't get any closer, but now Thibaut Pinot almost took a minute on me just because Nibali and Quintana made a pact, clearly. It's their right, but it would be nice if they lose their podium spot for that behaviour.
"I was feeling strong so I decided to show them that I'm also awake.