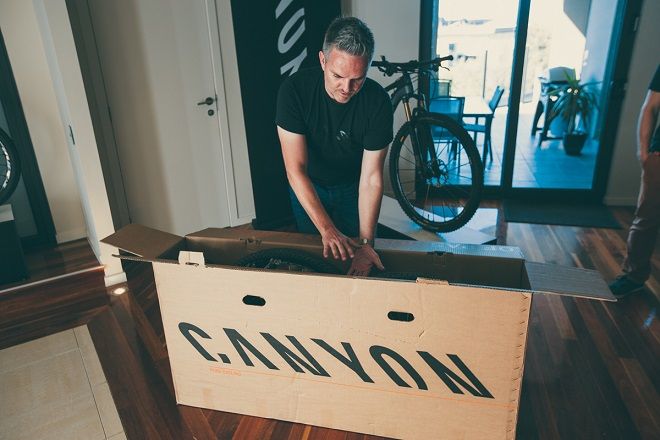 The clouds have been gathering over the independent bike shop for some time. According to the National Bicycle Dealers Association, there's been a 42 percent decline in bike shops since the industry's height in 2001, when a population injected with Armstrong enthusiasm stormed shops across the United States, demanding carbon fiber and spandex.
Although a general increase in store size has allowed overall revenue to stay relatively constant, and every city with a healthy bike scene can point to a shop that's thriving, this trend does not bode well. So any change in the purchasing habits of consumers looking for a new ride can cause the industry to look furtively upward.
And the storm building over their heads looks a lot like Canyon Bicycles, which is set to enter the U.S. market next year.
You may have seen the diminutive Colombian bullet, Nairo Quintana, win the Vuelta a España on a Canyon. You might have salivated over test reviews of the company's MTB line. Over the past decade, the German manufacturer has been increasing market share in Europe, growing roughly 30 percent each year and claiming nearly $180 million in revenue for 2015. What worries independent retailers is that Canyon did it entirely through direct-to-your-door online sales. Bypassing the local shop means Canyon is able to sell its bikes at a steep discount compared to prices at Joe's Wheels and Deals. For many, the convenience and savings of purchasing online outweighs the benefits of test rides and a free tune-up.
Until now, bike shops have been somewhat insulated from the impact of e-retail, largely because a typical shop earns nearly half its revenue from sales of complete bikes, and manufacturers have heavily committed themselves to selling through bike shops and keeping their bikes out of digital shopping carts. But recently, in response to Canyon and the pressure to adapt to a changing sales model, both Trek and Giant introduced online sales.
This is big news that has seriously worried the shops that rely on these brands. To allay their concerns, both manufacturers have doubled down on their relationships with stores that carry their product. "I appreciate the bind these manufacturers are in," says Erik Tonkin, owner of Sellwood Cycle Repair in Portland. "They're trying to do the right thing, but they're having to acknowledge market forces. But they also don't want to piss off their brick-and-mortar network, so they're trying to thread the needle."
Say you want a new Giant or Trek, but the closest shop to you is across town and you really don't want to put on pants. So you hop online. You know your size, and purchasing is as easy as choosing the model you want. Click, pay, done. Almost. You still have to put on pants eventually, because rather than showing up at your doorstep, the manufacturer shipped your new 15-pound rocket to your local dealer. The shop builds the bike, shakes your hand, and throws in that free tune-up. You get convenience, and the shop gets close to the same revenue as if the bike had been in stock. For the consumer, that means there's no discount for bikes purchased online: instead, she's getting the benefit of convenience and a broader selection of models.
That all speaks to the potential for positive symbiosis. If online sales increase, shops need to carry less inventory, thus lowering their overhead and credit debt to manufacturers. Consumers still get the shop experience that Giant and Trek hope will keep cyclists loyal to their product. Shops further pivot toward the service-over-sales model that builds a relationship with their community, and passers-by still glimpse their dream bikes through store windows. "I don't think it's a bad thing," says Tonkin. "It's reality. Whichever company does this the best might just get more brick-and-mortar sales out of this."
Click through to read more at Outside Online