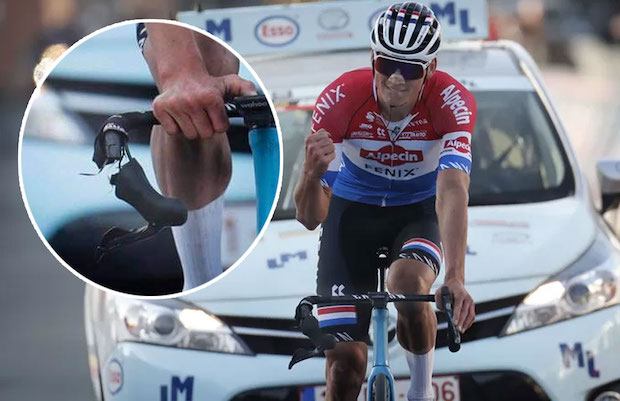 Canyon Aeroad handlebar on the way, owners will receive €1000
Bike manufacturer Canyon has spoken about the Aeroad bikes for the first time since Mathieu van der Poel's handlebar broke in Le Samyn.
Due to the incident, Canyon has emailed owners of the 2021 Aeroad CFR and CF SLX bikes to tell them that a redesigned handlebar is expected to be available in July. Furthermore, the company will compensate all owners of that latest model with 1,000 euros.
"As promised, we'll keep you updated on the actual Aeroad topics. In addition to this Social Media statement, we will inform all customers via email – those who already got an Aeroad and of course, all who actually have a bike on order", read a statement.
"As you know, our Alpecin-Fenix Cycling Team pro Mathieu van der Poel broke part of the handlebars of his Canyon Aeroad CFR during a bike race at the beginning of March. This did not show up in any of our industry-standard intensive testing procedures according to ISO4210-5, which we always carry out before launching new products. To ensure the safety of our customers, we will replace the drop bars on the cockpit with a reinforced version.
"Therefore, we will equip all CFR and CF SLX bikes in the market with the new drop bars, which will be available from July. We have asked our customers not to use their Aeroads until then. To compensate them for the downtime of not being able to ride their Aeroad CFR and CF SLX and to thank them for their loyalty and patience, we will give them a credit. The payment is linked to the repair and will be made after the replacement of the drop bars has been carried out and they have received their Aeroad back from us. We will contact them in due time about the exact repair and payment procedure.
"You are probably also wondering about the status of the seat post. The improvement of the seat post will take longer than we originally thought. We currently expect to be able to offer a suitable solution in the autumn that will satisfy our customers and us 100%. We are sorry that we cannot give you an earlier date now. We are also very sorry that we will probably not be able to deliver ordered Aeroads before autumn this year. We ask for your understanding and apologise for a long time off the bike or the waiting time and will also offer compensation for those who won't be able to use their bikes.
"It is important to us that all customers can ride their Aeroads as soon as possible – just like the riders of our pro teams who are currently riding the Aeroad from victory to victory. The handlebars solution used here is safe and complies with UCI regulations, but unfortunately, it is not suitable for series production. Our pro teams will also receive new drop bars and will be equipped with the same configuration as our customers in the future."