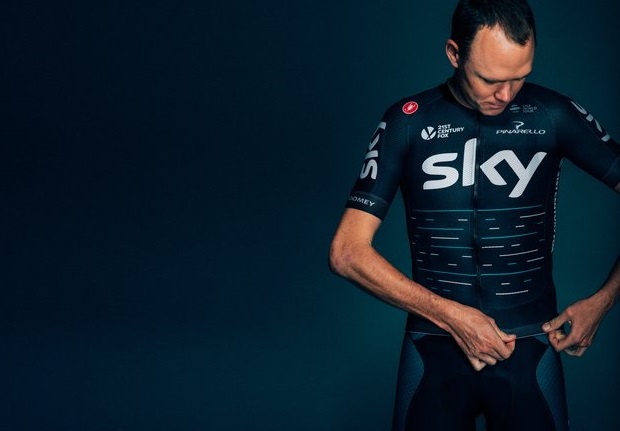 Team Sky have unveiled the new kit they will wear from next season. It is made by Italian manufacturer Castelli, who have replaced Rapha as the team's clothing supplier.
The team will be the only WorldTour outfit wearing Castelli clothing and will race and train in the brand's kit from January 2017.
Team Principal Sir Dave Brailsford said: "We're really excited to be able to announce this partnership between Team Sky and Castelli.
"Castelli will be more than a kit supplier, they will be an innovation partner. Castelli has a long history of breaking new ground when it comes to kit and design. We will continue to push hard to make sure our riders have the best clothing and equipment, and we're already excited about some of the ideas Castelli are working on with us."
Castelli will supply Team Sky's race kit, which will feature a brand new design for the 2017 season. The jersey design contains a mix of British and Italian influences, and the graphic celebrates every victory from Team Sky's first seven seasons.
The classic Breton shirt served as the inspiration but has been reimagined in a data pattern with each stripe on the jersey, short, mitts, socks and cap representing a specific Team Sky victory. The longest lines are the four Tour de France victories, with Chris Froome's 2016 victory immediately below the Sky logo on the chest.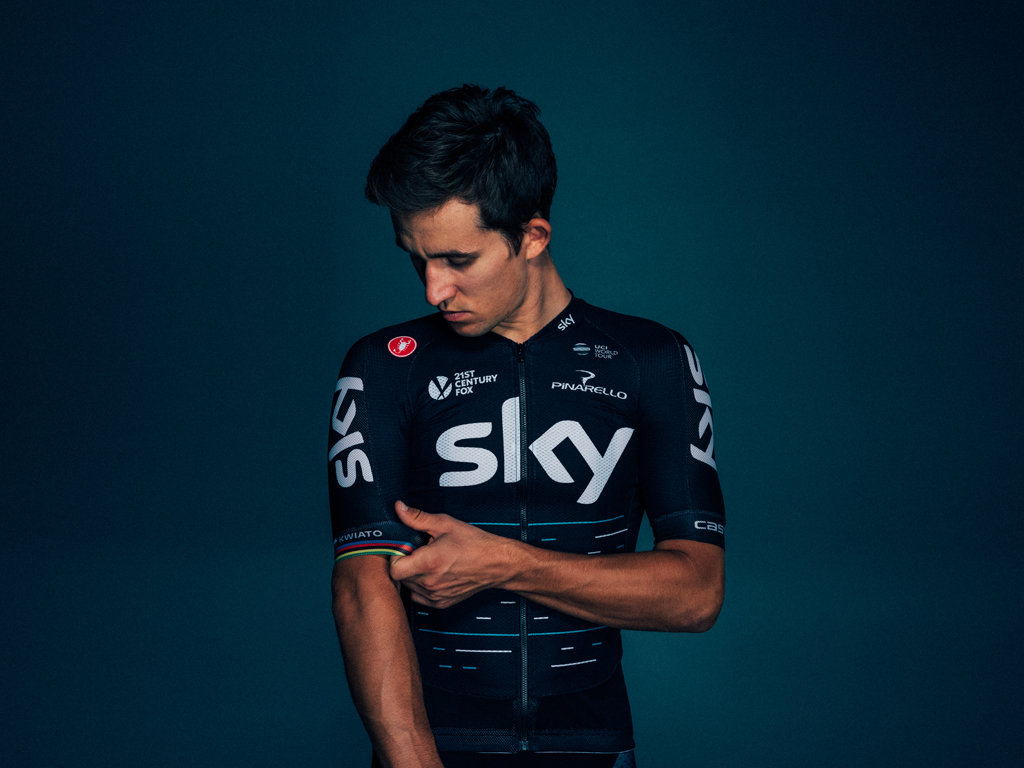 Brailsford added: "We spent a lot of time thinking about our new kit and what we wanted it to represent visually. We wanted to find a way of celebrating the success we have had as a team, but also to make sure we keep our mind firmly on the future. As a team we still have an enormous amount of goals we want to achieve and, through the design of our new kit, those will always be at the forefront of our thinking.
"We've maintained the design elements which our kits have become well known for, such as the blue line, but produced something ambitious and unique to Team Sky.
"We're delighted with the results and we hope our fans will love it as much as the riders do."
Andrea Peron, Castelli's race performance director, said that the performance goals of Team Sky are a "natural fit" for Castelli. He said: "Castelli and Team Sky share the same drive for results-driven innovation in everything we do. Team Sky has a structure and the resources to help us continuously give our athletes a performance advantage.
"Whether it's aerodynamics, foul weather protection or solutions that let the riders train more comfortably, we're looking at every opportunity for an advantage."