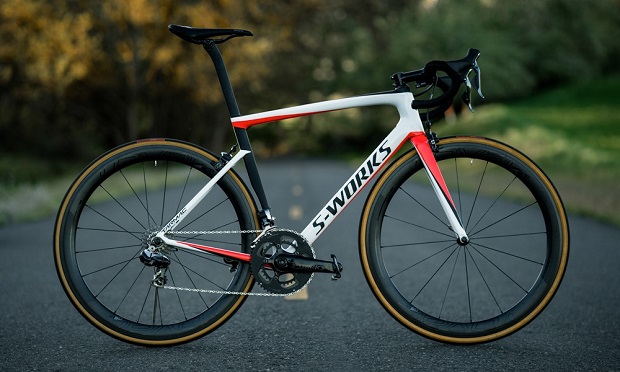 The new S-Works Tarmac SL6 version claims to be the lightest and most aero Tarmac ever produced, and both the chassis and geometry have received a thorough makeover.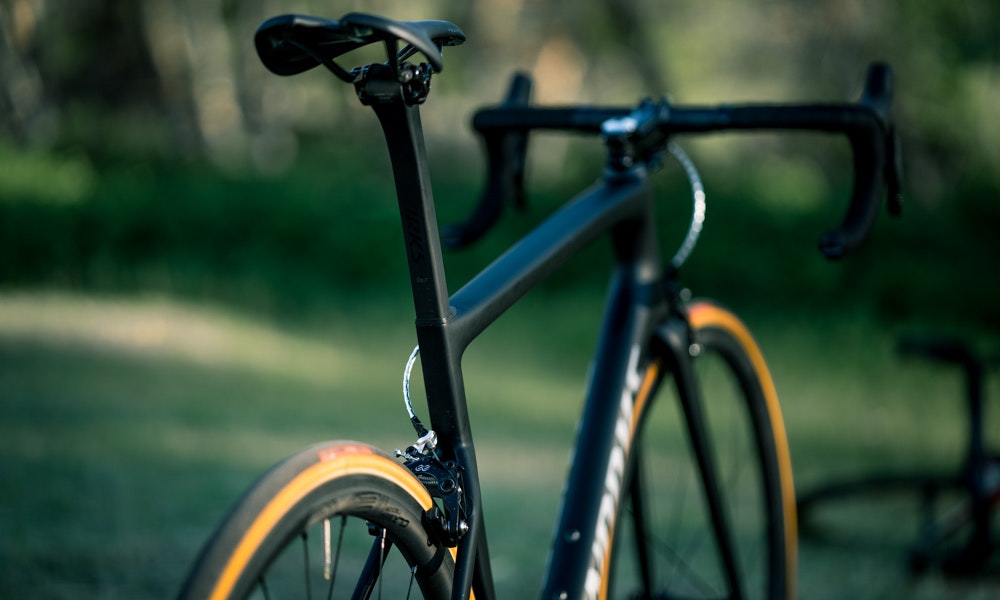 Specialized fine-tuned the carbon layups, going from 350 pieces to 500 and virtually eliminating overlapping. The Tarmac also does away with individual internal cable routing in the bottom bracket in favor of a lighter, separate, internal plastic sleeve. Altogether this shaves 200 grams from the previous Tarmac frame, putting a size 56 frame at a 733 grams.
One of the most notable changes between the new and old Tarmac is the dropped seatstays. Specialized says this small change has resulted in big aerodynamic gains, removing the stagnant air from around the previously higher positioned seatstays and improving overall airflow and reducing drag. The SL6 is said to be 45seconds faster over a distance of 40kph (at an average speed of 40kph) than other lightweight bikes in the same weight category.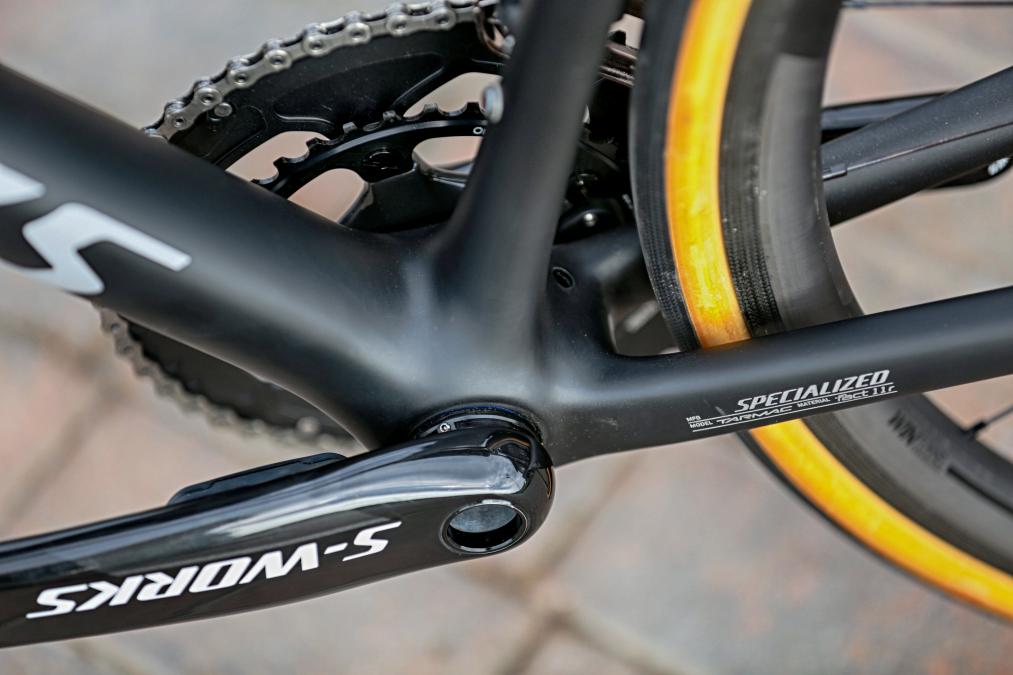 Contributing to the aerodynamics gains is the reshaped downtube that features a more rounded leading edge to improve airflow, a truncated airfoil fork with far less volume that reduces turbulent air and increases tyre clearance at the same time and new cable ports on the front of the bike that also creates a super clean front end. Specialized went through over 1,200 prototypes to finally settle on the new shape.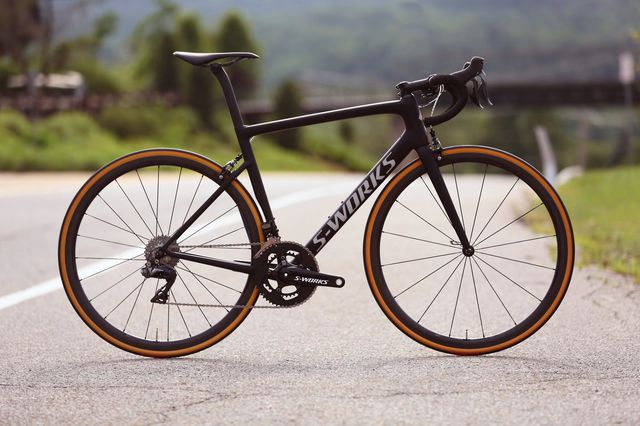 Specialized have stressed that versatility is the most prominent demand of the new Tarmac SL6 targeting the varied demands of the modern Grand Tour stages.
'The dynamics of racing have changed over the years, so a professional racer's needs have changed,' explains Yu. 'Every 10 km the decision on which of our previous bikes as most suitable would switch. So that's why we have taken the decision to make a bike that is appropriate across all different types of stages.'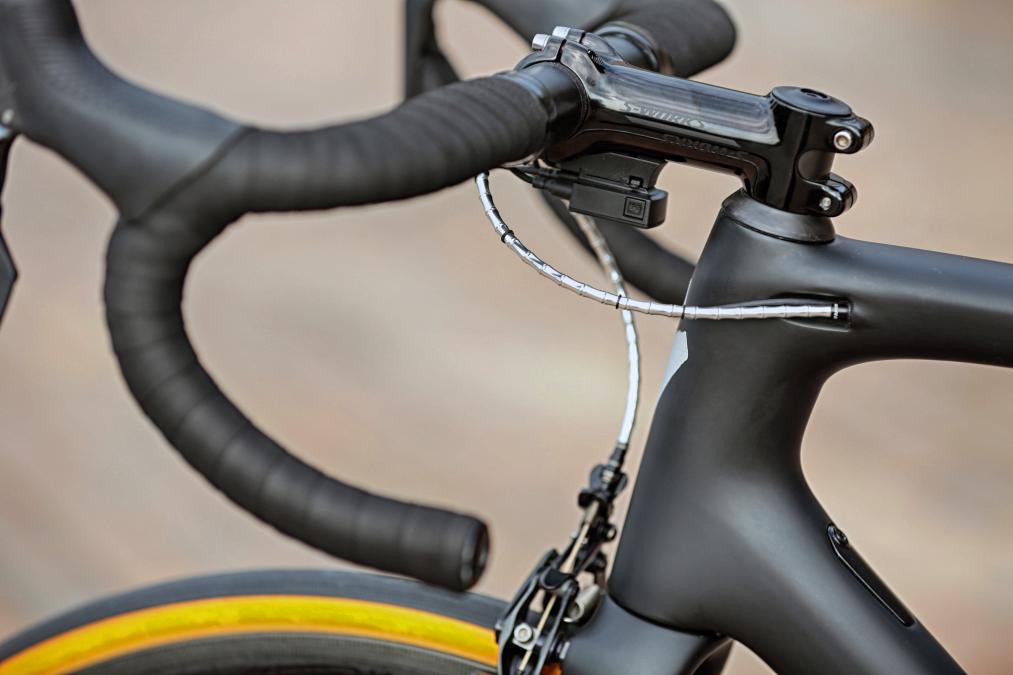 The Tarmac SL5 featured three, size-specific lower headset bearings but the new SL6 shifts the focus to the fork. Now, each of three Tarmac forks attach to the frame through a 1.5-inch lower bearing, and each steerer tube tapers differently. Smaller forks have a short taper while larger frames feature a fork with a longer taper.
One of the biggest surprises regarding the launch of the new Tarmac was the absence of a disc brake version. As it stands, the new Tarmac is only being offered as a rim brake version, with no mention of a disc-brake option.
The Ultra Light Men's Tarmac with lightweight paint and Dura-Ace Di2 groupset goes for $10,500, and will be available in a limited run of 500 bikes.
The S-Works Tarmac with Dura-Ace Di2 and Roval CLX50 wheels will cost $10,000 for both men and women, and comes in at $4,250 for just the frameset. Mens and Women's Expert versions will run you $4,000, and come kitted out with Ultegra and Roval SLX 24 wheels.