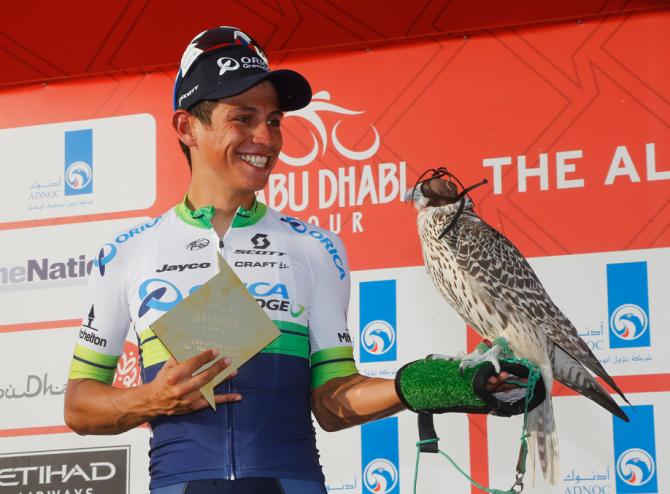 (Reuters) Esteban Chaves admits he is on a steep learning curve as he prepares for his Tour de France debut.
The 27-year-old Orica-Scott rider has hardly raced professionally in France, but many are predicting he can challenge the likes of champion Chris Froome and fellow-Colombian Nairo Quintana.
"This is not one normal season for me but I raced in the Dauphine and also in Australia," he told a news conference in Dusseldorf, where the Tour begins on Saturday.
"The Dauphine was a big shock. It was eight months since I raced in Europe, so everything was a bit of a shock but I am really happy to be back racing, especially in Europe.
"Also, it was a shock because I've never done races in France, I never did Dauphine, I never did Paris-Nice, I never did Tour de France, so all of this is new for me."
"To begin my first Tour de France is like a dream," he said. "I remember sitting on the couch back home in Bogota with my dad watching the Tour. That why I am in love with this sport. To start in this Tour de France is one victory for me."
Chaves is one of seven Colombians starting in Dusseldorf on Saturday and while Quintana will attract most attention back home, Chaves is not just here for the ride.
"It's not a secret. We have two contenders here for the GC, Yatesy (Simon Yates) and me. Yatesy will also go for the white jersey and we will try to do our best for that."
Team leader Yates is hoping to emulate his brother Adam who came fourth in last year's Tour and won the young rider classification.
"I'm sure he'll be encouraging me from the sofa," Yates said.
"No (he's not offered me any advice), it's very difficult in a race, when you're in a stressful situation, it's very hard to show or describe that to someone."