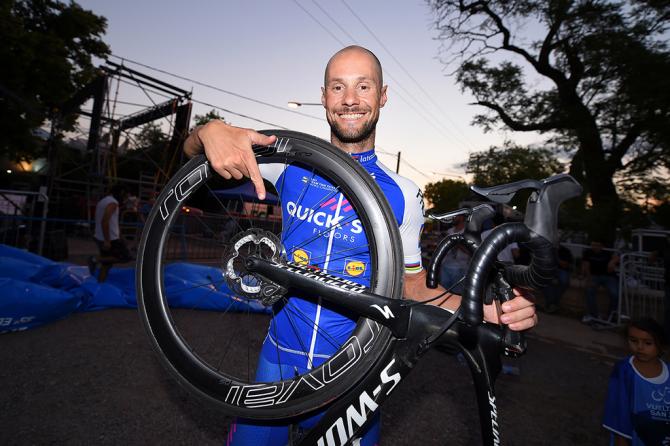 In a video interview with La Gazzetta dello Sport, Mike Sinyard, the CEO of Specialized, dismissed concerns about the safety of disc brakes and said that he believes all bikes will have disc brakes in two years time.
"If you think about the disc brake in everything, whether it's the car or the motorcycle and also the mountain bike, it's so logical because with the disc brake you can have so much more precise control, and I believe it's adding more safety, not danger," Sinyard said. "If anything the chainring on the front is the more dangerous piece. The disc brake is the future. In the future we won't look at road bikes that don't have disc brakes. They will all have them.
"Even now you see riders using them more and more, and for sure I believe truly that two years from now everybody will be riding disc brakes."
"We always need to look at aspects of safety. We've taken the disc brakes and made the edges very smooth which makes a big difference. If you cover them then they will just get hotter.
UCI stopped the disc brakes trial in the road cycling when Francisco Ventoso claimed that a rotor cut him during a crash at 2016 Paris-Roubaix. Six months later UCI revealed it would again allow WorldTour teams to use the brakes, albeit with dulled edges this time around.
"We have no evidence of disc brakes causing cuts in crashes, and I think the improved safety of disc brakes outweighs any other issues. The crankset is the most critical part that can cut riders.
"My personal feeing is that the disc brake is bringing the safety because there's more control and you can go down the mountain with the brake when you need it instead of dragging the brake all the way down to make the speed slower."