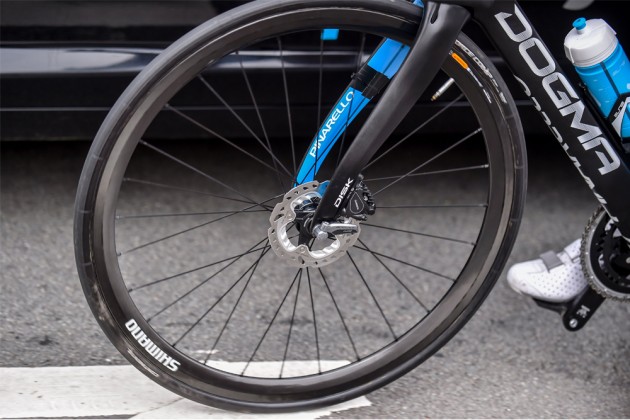 The Professional Cyclists Association (CPA) is threatening legal action against world governing body the UCI over its ongoing trial of disc brakes.
Fears that the brakes, a sharp-edged exposed disc, could cause serious injuries prompted the CPA to call for further tests before they are allowed to be trialled in more races.
In a statement, the CPA, which represents the main tour team riders, said it was concerned that safety features such as the rounding of the profile of the discs and fitting them with protective covers had not been implemented.
"The CPA has sent a legal warning to the UCI to inform it that the CPA is very concerned about the situation that has arisen since the authorization to use the disc brakes during the races," the statement said.
"The trial has started before appropriate tests were conducted on the risks to which the riders are exposed in the event of accidental contact with the discs (for example during a group fall)."
CPA president Gianni Bugno said repeated calls to safeguard riders had come to nothing.
"Now we feel compelled to act in a stronger way to be heard," he said. "As we have always said we are not against the disc brakes but against the non-implementation of the security measures that the majority of the riders asked for."
Team Sky's rider Owain Doull said he was cut on the foot by a disc brake attached to the bike of Marcel Kittel during last week's Abu Dhabi Tour.
The World Federation of the Sporting Goods Industry (WFSGI) issued a statement on Tuesday disputing whether disc brakes caused Doull's injury, saying it was likely to have been caused by coming into contact with crash barriers.