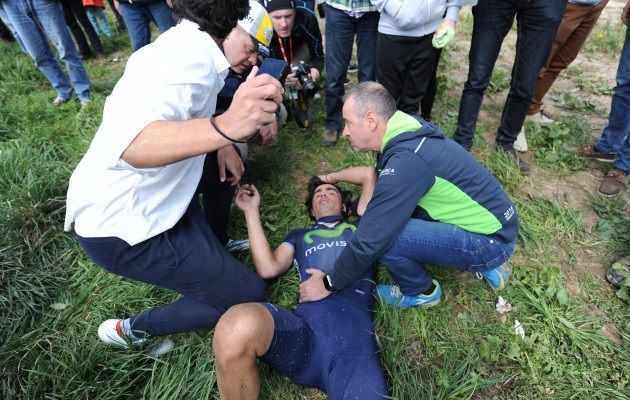 UCI stopped the disc brakes trial earlier this year when Francisco Ventoso claimed that a rotor cut him during a crash at Paris-Roubaix.
Six months later, the Movistar rider reluctantly admits he'll likely have to use disc brakes in the years to come as the UCI revealed it would again allow WorldTour teams to use the brakes, albeit with dulled edges this time around.
"It's the same as racing the Abu Dhabi Tour in October, if they say that I have to use them, then I'll use them," said Ventoso at the Abu Dhabi Tour. "I think it was too soon before [to trial the brakes]. They didn't do all the research. Now, it seems that they've done it and that the brakes are safer.
"They modified the brakes, they studied the problems and guaranteed the safety for the riders. The UCI and CPA said that with these modifications that the manufacturers made make them safer. Let's see. I put my faith in them. I'll use what the team gives me."
Ventoso has written an open letter on the dangers of disc brakes in the professional peloton after the Paris-Roubaix crash, claiming that the injury he suffered was caused by one of the 32 disc bikes in the race.
The Spaniard suffered injuries to his lower left leg which required surgery.