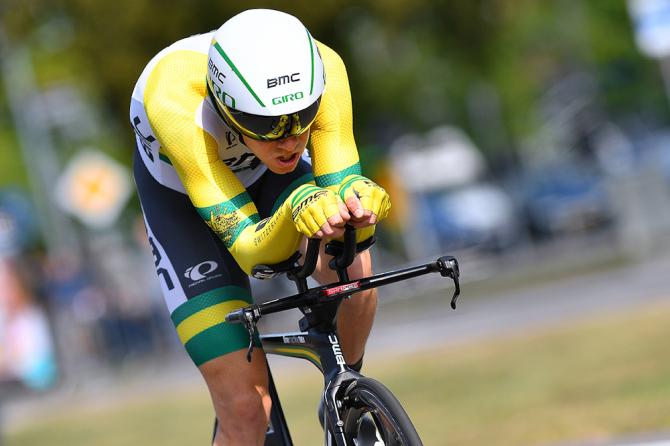 Rohan Dennis has claimed the gold medal for the second consecutive year in the individual time trial at the Australian Road National Cycling Championships, with a dominant performance that saw him take the win with a 58-second margin.
As defending champion, Dennis was the last rider to roll down the start ramp for the 40.9km and put in a solid first half of the race.
Although he crossed the line at the intermediate checkpoint three seconds behind Luke Durbridge (Orica-Scott), Dennis put in a blistering run into the finish line to clock 50:59", 58 seconds in front of Durbridge and 1:38" ahead of Ben Dyball.
"Two weeks ago I was fairly confident and then on New Year's Day I was really confident but then that night I came down with something. This gave me a bit of doubt as I didn't know how I was going to go. A lot of it was severe hay fever symptoms and I think it was more than that, but I woke up this morning and I was feeling a lot better. So I just hoped that it would all come together today.", said Dennis.
"The head wind was huge on the way back and it just kills you as you are fighting it the whole time. It was harder than last year and more like the conditions we had two years ago. The last 5km hurt a fair bit."
"I can take a lot of positives from today. I'm lighter than last year and basically put out the same power. I haven't done a lot of time trial-specific training for the nationals so that's a huge bonus. We're moving towards going for GC so I still have to be good in time trials, so obviously I haven't neglected that. There's bigger goals than the Santos Tour Down Under but I'd like to be up around the mark in Adelaide and we're there for Richie so I can be there to help him get the win.", added the Australian champion.
Results:
| | | |
| --- | --- | --- |
| 1 | Rohan Dennis (BMC) | 0:50:59 |
| 2 | Luke Durbridge (Orica-Scott) | +58" |
| 3 | Ben Dyball | +01'39" |
| 4 | Michael Hepburn (Orica-Scott) | +02'05" |
| 5 | Miles Scotson (BMC) | +02'29" |
| 6 | Brendan Canty (Cannondale-Drapac) | +04'01" |
| 7 | Sean Lake (IsoWhey Sports Swisswellness) | +04'07" |
| 8 | Cameron Wurf (Cylance Pro Cycling) | +04'14" |
| 9 | Lachlan Norris (UnitedHealthcare) | +04'34" |
| 10 | Jacob Kauffmann (NSWIS Road Cycling) | +04'38" |