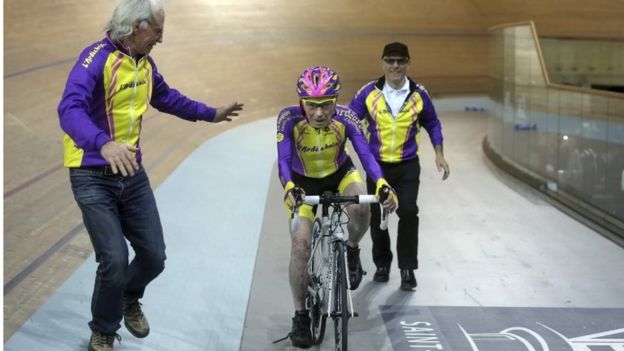 French cyclist Robert Marchand became the first person to set the hour recrod for riders aged 105 years and above, a category recently created for him by the UCI. The 105-year-old set a distance of 22.547 kilometres at France's national velodrome in Saint Quentin en Yvelines.
He "could have done better", he says, but missed a sign showing 10 minutes to go.
"My legs didn't hurt. My arms hurt but that's because of rheumatism. I'm not in such good shape as I was a couple of years back," he told AFP.
"I am not here to be champion. I am here to prove that at 105 years old you can still ride a bike," he said.
When asked how Marchand prepared for the attempt his coach said, "There is no excess in the effort, no excess in the food." Though Marchand said he did indulge in a glass of Côte du Rhone the night before.
Marchand set his first hour record in 2010, riding 24.251 kilometres.
Born on 26 November 1911, Marchand puts his fitness down to diet – lots of fruit and vegetables, a little meat, not too much coffee – and an hour a day on the cycling home-trainer.
A prisoner of war in World War Two, he went on to work as a lorry driver and sugarcane planter in Venezuela, and a lumberjack in Canada.
No stranger to sport outside cycling, he competed in gymnastics at national level and has been a boxer.