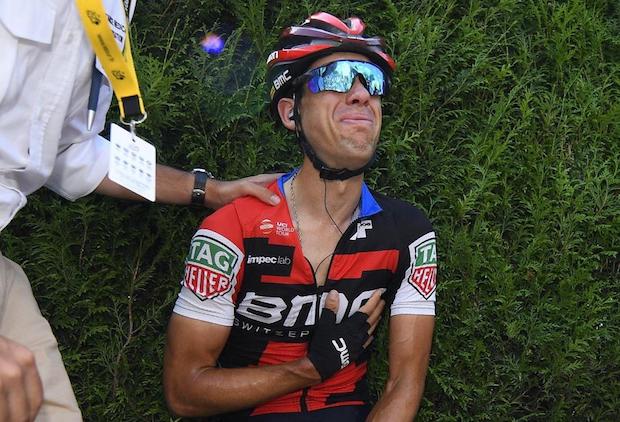 A crash during stage nine of the Tour de France saw Richie Porte become the first general classification contender to abandon the 2018 race, but the Australian is turning his attention to the Vuelta and World Championships.
"The goal is to get past stage 9 next year…," Porte said about 2019 Tour de France. "What happened this year has left me more motivated for the Tour. 100 per cent of the motivation is there (for 2019). It was inspiring to see Geraint win the Tour. I've seen so much of his bad luck first hand and so to see him win the Tour does give you a bit more motivation.
"Obviously it was disappointing to crash out again and be at home watching on the sofa again, especially how the Tour was this year. As soon as it went up to the mountains and Team Sky took control, and we figured how the race would have turned, it would have been an ideal scenario for myself.
"But full credit to Geraint, we're quite good friends. We trained together before the Tour and I saw a different Geraint. He was super motivated going into it, I've never seen him so switched on. I guess he took confidence out of winning the Dauphine. When you know Geraint like I do, it's not a surprise he finally puts it all together and doesn't have any bad luck in the race. It's not a massive surprise to see him up there; he's one of the most talented."
"I'll find out where I'm at during the Vuelta like a lot of guys," Porte said. "The biggest goal is Worlds now. A couple of days after the crash, it was nice to get a message from Brad McGee, the Aussie national team selector. He put that thought in my head and that motivated me to get my act together to get back before the season is out.
"I think there are 10 days between the Vuelta and the time trial so hopefully that's enough time to get some recovery and check out the courses," Porte explains. "The time trial is some like 52km, that's a long one. But I'll have a go at it. I think the road race course is good for me, it's not one you often see one so tough like that."
"I last ride the Vuelta in 2012 and I got an absolute kicking," he recalls. "The Vuelta is not the race to ride unless you're 100 per cent motivated. It's hard. It's like that last chance saloon; there are guys looking for contracts, guys who are absolutely flying. People said it's the most relaxed of the Grand Tours, with an organised gruppetto. But I was out the back at 14km into a stage and there was no organized gruppetto.
"I don't know where my form will be but that's a nice goal to go to the Vuelta and try to see how it goes."