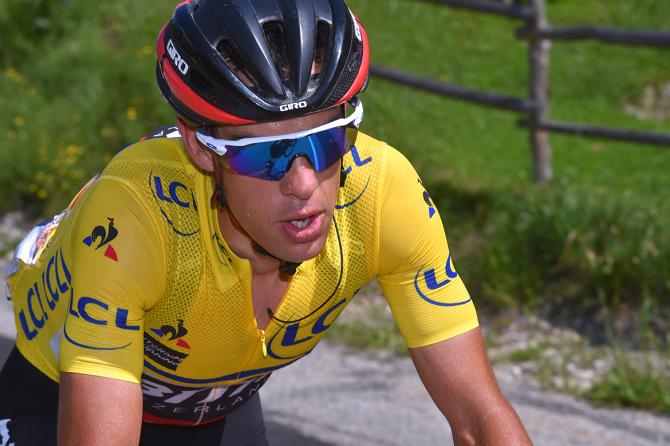 Richie Porte knows the clock is ticking down on his cycling career but is confident he and his BMC team can deliver at least one podium spot on the 2018 Tour de France.
As lieutenant at Sky for both Bradley Wiggins and Chris Froome in the past, Porte is hoping to get a head-start on his rivals for a result his fans believe he deserves.
"We have the horsepower to get us through the first week," said Porte in reference to the expected windswept Western France section of the Tour that starts Saturday and needs the stronger, bigger riders.
"In the team time-trial on stage three we have Stefan Kung to lead us out and we can take time off our rivals there," said Porte. "I don't think however that there is one, single clear favourite this year," he said.
"It was nice to see Chris Froome win the Giro, I hope he's buggered now," he joked when asked about specific rivals. "He had a strong team there and possibly has an even stronger one here," he added.
"But on the Tour de France guys like Vincenzo (Nibali) and Nairo (Quintana) are never going to give him a single easy day."
With regards to the trident of leaders at rival team Movistar Porte was unconvinced.
"You know how hard it is to run a team with two leaders, let alone three," he said of the Mikel Landa, Nairo Quintana and Alejandro Valverde led team.
Porte would not be drawn on Froome's salbutamol case.
"Once again cycling has chosen to do its dirty laundry in public. Chris deserved better," he said.
Porte's team managers talked up their leader's chances of busting into the top three.
"We have come here with the sole aim of getting this man onto the Tour de France podium," said team Manager Jim Ochowiscz. "We came here 100 percent fit and 100 percent prepared."
Earlier Sky released detailed data about scientific nutrition regimes involving starvation rations and blow out calory binges in a bid to explain how four-times champion Froome prepared himself to win bike races.
Porte laughed off the data dump as 'fake news' to trick rival riders.
"I know how to eat and what to eat to get me through a Tour," said Porte when asked about Sky's micro nutrition system. "I reckon that's fake news from them to try and trick their rivals into under fuelling."