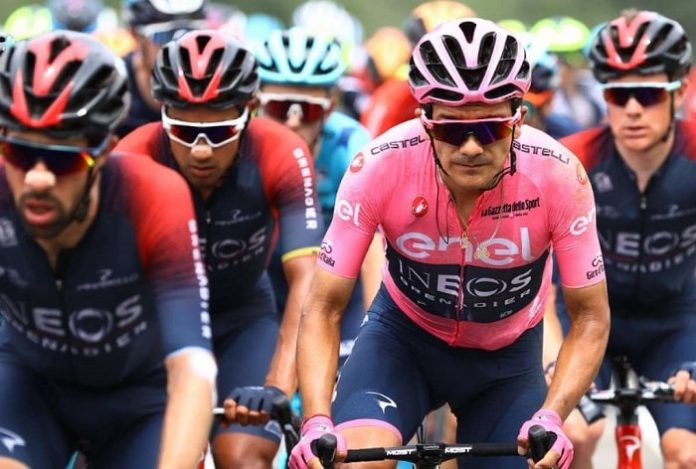 Richard Carapaz enters the final week of the Giro d'Italia in pole position to take a second title, but the Ecuadorian says the race is far from over.
"The final week is favorable for us," Carapaz said. "I've really focused on being strong for these mountains. We also have the maglia rosa and that gives us an extra motivation to defend it. This coming week will surely be difficult but we are ready to leave everything on the road."
"The week that is ahead of us favors us even more. There are a lot of meters of climbing with long approaches to the top of the climbs. The team is calm about what lies ahead in the next week."
"We have a good idea of who will be there to fight for the jersey. With Hindley, Almeida, and Landa, and it's going to be a hard week with a lot of mountains. I think we have a good presentation of will be the challengers for victory.
"The key in this Giro really starts tomorrow. Tuesday's stage features 5,000 meters and the weariness will start to be noted," Carapaz said. "We don't have a quiet day all week. The key will be in being focused, take it on day by day, and to try to minimize any losses."
"I think these four big days in the mountains will be the biggest factor in who decides who wins the Giro," Carapaz said. "The time trial final will not be so decisive in who wins or who doesn't win the Giro."
Carapaz said he's not bothered by the possibilities of the weather turning for the worse as forecasters expect.
"If it rains tomorrow, we'll see how we respond. So far there's been a lot of heat, but we're ready to take on anything that the mountains throw at us. The weather doesn't worry me too much.
"I feel even better than I did in 2019, and in that case, it was far from assured, so that gives me even more confidence for the week to come."
"The team will count for a lot during the final week," he said. "If you're caught out alone you can really pay for it. The team is strong with Richie, Pavel, Ben, and riders like Castroviejo is getting better.
"We were five there in the final and the hard final week it's important to have one teammate at your side in the decisive moments."