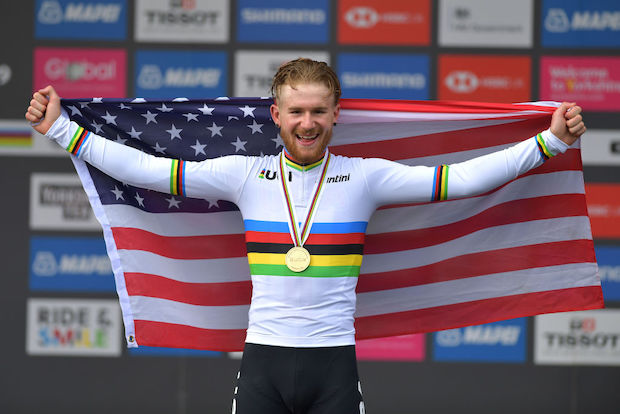 Junior world champion Quinn Simmons received harsh criticism on Twitter after admitting to support Donald Trump.
The 19-year-old responded a tweet from a journalist who had written: "My dear American friends, I hope this horrible presidency ends for you. And for us as (former?) allies too. If you follow me and support Trump, you can go. There is no excuse to follow or vote for the vile, horrible man."
Bye 👋🏿

— Quinn Simmons (@QuinnSimmons9) September 30, 2020
Simmons replied with the word "Bye" and reactions came quickly with some users urging Trek-Segafredo to terminate his contract, while others accused him of racism or insulted him harshly.
I hope @TrekSegafredo will be waving goodbye to you to if you support Trump.

— ⥫ Lee ⥭ (@_LeeWalton_) September 30, 2020
Break a leg, boy. 🖕

— Sean Kirby (@sdotkirby) September 30, 2020
U racist fuckwit. Glad to see your career coming to an end.

— Balu Puppy (@balupuppy) September 30, 2020
Quinn Simmons signed for Trek-Segafredo last year after winning the junior road race at the World Championships in Yorkshire, a title he still holds with the category not raced at this year's event in Imola.