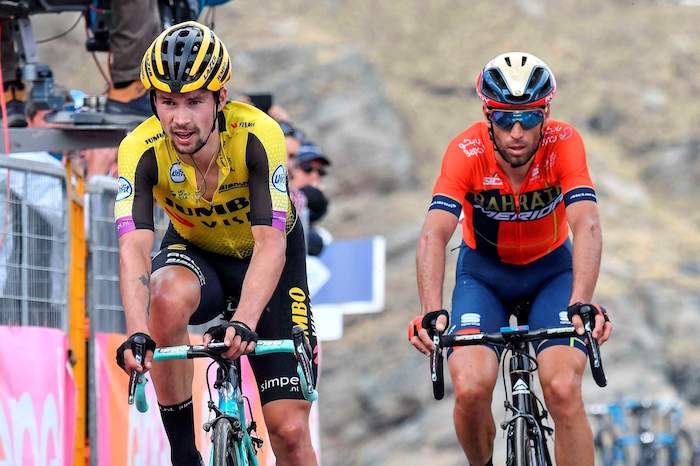 So long Primoz Roglic had his rivals behind him on the overall standings but Movistar turned those plans upside down in stage 14 of the Giro d'Italia.
Richard Carapaz vowed to fight all the way to win the Giro d'Italia after shooting to the top of overall standings with an impressive solo summit finish victory today.
"The difference now is that we don't have a pink jersey that is likely to lose it," said Jumbo-Visma sport director Addy Engels. "Now we have a very strong Carapaz with a very strong team — that changes things."
"It was hard day, eh," said Roglic. "It's easy to say, but it was a hard day… So far, so good. I'm still in one piece and pretty healthy and looking forward to the rest of the race. There was not a lot of romantic things or tactic on the climb. We were all just full-gas."
"We already had some days in pink and we saw how hard it is to control things. I'm happy with the place I'm in".
Nibali called out Roglic after negative racing in Thursday's and Friday's stages, but the Jumbo-Visma leader was not interested in responding to Nibali's comments.
"Let's race first, then we can talk," Roglic said with a smile, his mutant mask slipping briefly to reveal his own sense of humour. "I am not here to comment on these things, I'm here to ride the bike."