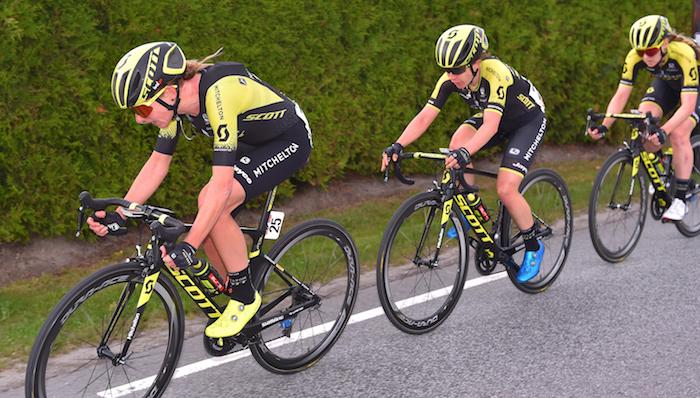 Mitchelton-Scott women's team have finalised a roster of ten cyclists for the coming season.
With eight riders re-signing, the team remains mostly unchanged after they enjoyed their best season to date in 2018, and with two new riders coming on-board, complimenting the squad further.
"2018 was a great year for the team," sport director Martin Vestby acknowledged. "We have a core group of riders who have developed together throughout the past years and now they are working really well together, understanding each other both on and off the bike and that saw us achieve so many results this season."
"One of our main strengths this year was that we are really a 'team' and we will continue that into 2019 with continuing with mostly the same riders."
Throughout 2018 Mitchelton-Scott women stepped up a level and, like their male counterparts, became general classification contenders claiming victory in four UCI stage races, including the longest and arguably hardest women's stage race on the calendar, the Giro-Rosa.
"I feel we have a good balance of different types of riders for next season and the girls really know each other's strengths," Vestby continued. "Our two new riders fit well in the team and will provide vital support, adding strength and depth to the support structure and I think it will be a good balance and mix with the 2018 girls."
"The biggest challenge will be in the pure sprinter's races, but we have proved that we can do good lead-outs and win with different riders when it comes down to group sprints."
After recording 26 UCI victories 2018, Vestby believes there's still room to improve, especially after two key players, Georgia Williams and Lucy Kennedy, were absent for lengthy periods during the season due to injury.
"2019 will be exciting. It will be hard to top the 2018 season but hopefully with less bad luck and injuries we can start with our top team lining-up in major events and it also gives us the room to rotate more races and not burn out any riders. I'm sure that we will see positive effects from that and hopefully even more victories." 
"We really built some good processes and routines that strengthen our operations this year but of course there is always a potential to improve more and on an individual level. For me, to continue with this core group is a natural way to continue to move forward.
"I'm sure each of our riders can continue to develop during the next years, they are very determined and confident after having such a great season this year. There is also still a nice touch of competition in the group, many riders have stepped up a level and are hungry for their own results too and this helps to keep them motivated and push the level up as well.
"With Moniek and Grace joining, it will balance the team out and with the rest stepping up their game, I'm positive and looking forward to 2019."
Mitchelton-SCOTT 2019 roster:
Jessica Allen – (AUS 25)
Grace Brown – (AUS, 26) – new signing
Gracie Elvin – (AUS 30)
Lucy Kennedy – (AUS 30)
Alexandra Manly – (AUS 22)
Sarah Roy – (AUS 32)
Amanda Spratt – (AUS 31)
Moniek Tenniglo – (NED 30) – new signing
Annemiek van Vleuten – (NED 36)
Georgia Williams – (NZL 25)