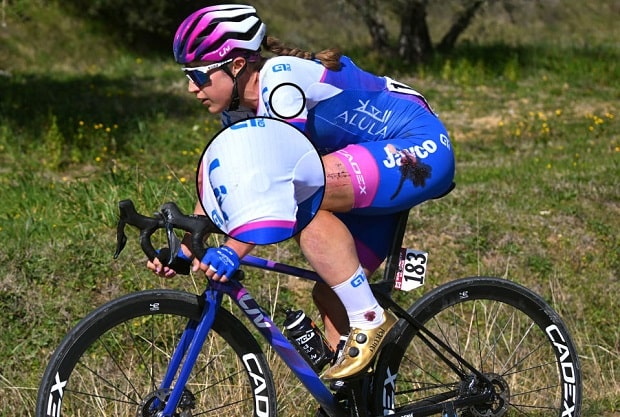 UCI has disqualified Kristen Faulkner from Strade Bianche after the American finished the race. 
After an epic solo breakaway until almost the very end of the race, Faulkner was caught by Demi Vollering and Lotte Kopecky on the last climb into Piazza del Campo in Siena.
The 30-year-old could be seen wearing a disc-shaped blood sugar tracker under the sleeve of her jersey during her Strade Bianche attack and on the podium after the race.
According to the UCI rules "devices which capture other physiological data, including any metabolic values such as but not limited to glucose or lactate are not authorised in competition".
10 days after the race, the UCI has now disqualified Faulkner from her podium place.
"Kristen Faulkner has been disqualified from the 2023 Strade Bianche which took place on 4 March, for breach of article 1.3.006bis of the UCI regulations due to the wearing of a continuous glucose monitoring sensor throughout the event," the UCI said in a statement today.
"No further sanction other than disqualification will be taken."