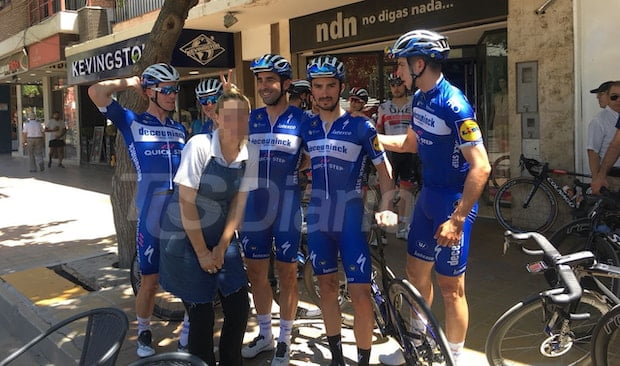 A woman in San Juan, Argentina, has reported Deceuninck-Quick Step cyclist Iljo Keisse to the police for sexual harassment after he was alleged to have touched her inappropriately as she posed for a photo with him and his team mates.
The complaint alleges that Keisse brushed his genitals against the woman, who was working as a waitress, while she was taking a group photo with the Deceuninck-Quick Stepteam.
Speaking with local media, she explained that she had been serving the riders and speaking with them before taking the photo.
"I speak some English. They made an order. I did not know the Vuelta a San Juan was there and they explained what they were doing, that they were coming to compete. I asked for a photo and I felt they encouraged me. I thought it was an accident, but later I realised that it wasn't an accident," the woman told Telesoldiario.
"I am very angry. They disrespected me, I was working," she said. "I asked for a photo and they disrespected me. I spoke with my lawyers to see what we can do."
"They cannot come to another country and treat women as things, as something insignificant and worthless. This is Argentina and he cannot come to do what he wants. I hope that at least they sanction him or call his attention for doing what he did."
Keisse apologized and has insisted very strongly that he did not touch or brush off her in any way.
"I would like to apologise, especially to this lady. I made a mistake, I realise that. It will not happen again," he said. "It was a really stupid thing to do. I wish I could turn back time but I can't. I made a mistake.
"I made a stupid movement with my hand. I did not hurt anybody," he said, quickly adding he accepted he hurt the woman's feelings.
Authorities fined him 3,000 pesos, about $80. Despite calls for him to be kicked out of the race, he started stage 3.