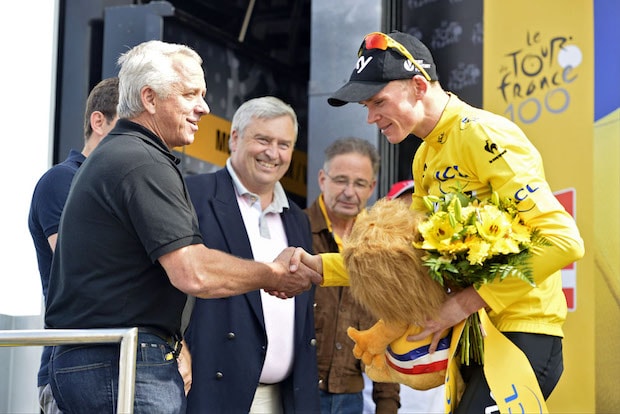 Speaking to The Times, Greg LeMond has launched a stinging attack on Team Sky, describing Chris Froome's defence as "ridiculous".
"The fallacy that salbutamol does not improve performance is only true if you use it as prescribed. Taken orally or by injection it acts as an anabolic steroid, similar to clenbuterol, the drug that Alberto Contador was positive for," said LeMond.
"It's the athlete's responsibility for following the rules. As for the use of salbutamol, it's up to Chris Froome to be responsible for what he puts into his body. He alone is responsible. The peloton relies on the equal application of the rules. If these are not followed, it undermines the sport."
Team Sky insist that Froome did not exceed the allowed dosage of salbutamol during the Vuelta, and also that he declared his use of the medication as he is required to do.
"There is considerable evidence to show that there are significant and unpredictable variations in the way Salbutamol is metabolised and excreted," Team Sky said.
"Give me a break," LeMond said. "That is the most ridiculous excuse I have ever heard. If this is what he claims, then it's simple, he broke the rules and should be punished accordingly."
"You have to look at Froome's AAF in context of everything around Team Sky. The comments from Shane Sutton, admitting that the team would push things right to the limit, the lost records, the jiffy bag," LeMond told The Times.
"I don't believe in Dave Brailsford. He's secretive, he skirts around questions, and from what I read and hear, the team is not as scientific and as knowledgeable as they claim to be.
"It pains me to hear Brailsford and the team dismiss real science as pseudoscience, always a red flag as far as I am concerned. As history has shown, when things are too good to be true, they usually are."