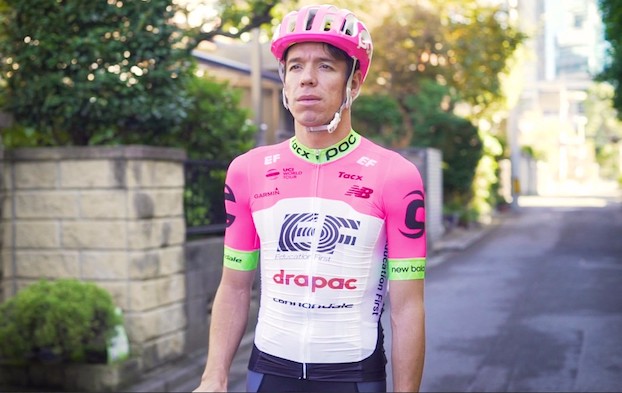 EF Education First-Drapac team have confirmed a 25-rider final roster and the team's major goals for the 2018 season. The team already has plans for the Spring Classics, the Giro d'Italia and the Tour de France.
"This is a totally different team but with the same anchor points," said Jonathan Vaughters. "It's a very different team than the one we had last season. It will be a different look and feel in many ways given the turnover we had with our sponsorship situation. We're lucky that most of our staff stuck with us, which will provide a lot of stability."
EF Education First – Drapac will focus on the Classics, with a spring squad built around Sep Vanmarcke while Uran will aim one step higher on the Tour de France podium.
"Those are the obvious areas of excitement," said Vaughters. "Sep wasn't healthy last year, and I'm eager to see what he can do at full strength in the spring. Rigo is uniquely suited to this Tour. It's a dynamic parcours with so many different elements. Rigo is an adaptable, Darwinian rider, and we hope he can be very competitive."
"There's something new for us in Dan McLay and Sacha Modolo and the support crew we've built up around them," Vaughters added. "For the first time, in a long time, we'll be competitive in the sprints. I'm excited about that. Then there's seeing what Mike Woods can do at the Giro. Those are the four things I'm most looking forward to with this group of riders."
The team's smaller size is part of an overall trend amongst WorldTour teams and in direct response to recent rule changes.
"Grand Tours are only eight riders and other races are only seven, so we reduced our roster size accordingly," said Vaughters. "It's nothing other than that."
Vaughters' squad lives to ride another day in part due to the #SaveArgyle movement that saw nearly 5,000 fans contribute more than $500,000 during an Indiegogo campaign last September. While the funds raised did not cover the budget shortfall, EF Education First caught wind of the movement before eventually signing on as both naming partner and majority owner.
"We have the best fans in cycling and maybe the best fans in all of sport," said Vaughters. "They showed us that through their support. It's incredibly flattering and humbling. We're looking forward to making it a special season for them and for all our fans."