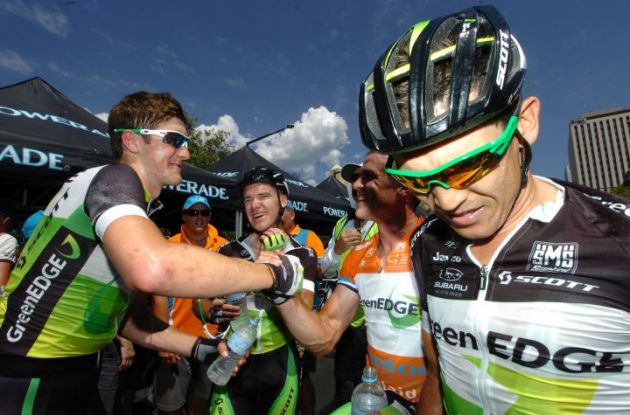 GreenEDGE Cycling will launch a new team, to be called Mitchelton-SCOTT, in 2017.
The team will race on the UCI Continental circuit as a Chinese-registered outfit, and is the product of a collaboration by GreenEDGE Cycling with a number of parties, including the Chinese Cycling Association and Cycling Australia.
"After what we consider to be a hugely successful first five years on the world stage, at the top level of both men's and women's cycling, we believe we have landed in a strong position to expand our offerings to a Continental Team for 2017," team owner Gerry Ryan said.
"The addition of Mitchelton-SCOTT continues to support our ambitions to foster the development of young Australian riders and also extends our support to the Australasian region for whom we represent with the UCI."
Following the signing of Hong Kong champion Cheung King-Lok to the elite men's team in 2016, general manager Shayne Bannan, who has had a long-standing relationship with Chinese head coach Jingkan Shen since the late 1980s, said the partnership had been a long-term vision.
"Mr Shen and I have been in discussions about this project for the last decade," Bannan explained.
"To be able to contribute to the development of our local Australian riders and those from China is something we are very proud of. For China, this is the first project of its kind and it's also the evolution of Australia's WorldTour Academy to enhance the pathway for local riders too."
The team will be made up of a similar balance of Chinese and Australian athletes and led by head sports director James Victor. Six Chinese riders and two Australian riders have already signed, with more to be contracted following the evaluation of performances over the Australian summer.
The final Mitchelton-SCOTT roster and race plan will be finalised at the conclusion of the Australian Summer of Cycling. The team's first race is expected to be in February/March with the majority of the racing program to be completed in Asia and Europe.