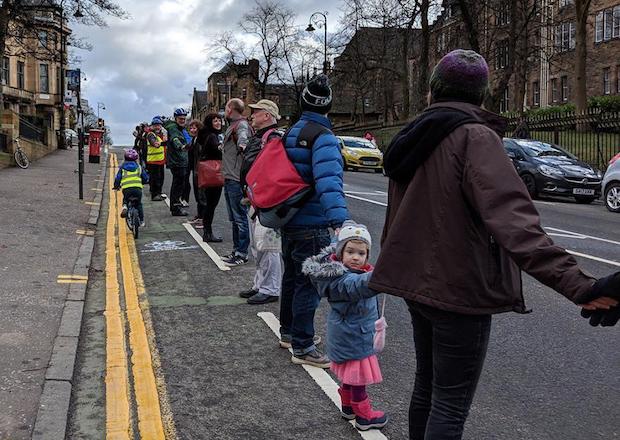 Campaigners in Glasgow formed a human bike lane protesting council plans to reduce the area of cycling provision at University Avenue.
Protesters say development plans, which form part of a £1billion transformation in Glasgow's west end, will have a "negative impact" on cyclists.
The suggested changes will result in the current cycling provision being cut to narrow strips of paint on only one side of the road, with lines disappearing at the top of the hill.
GoBike co-convenor Iona Shepherd said: "Paint is not protection, and we simply cannot accept roads being upgraded without providing safe spaces for active travel."
"We live in a city where almost 50 per cent of households do not own a car. Our streets need to be safe not just for people who currently choose the bike to get around, but for all people who want to choose active travel but don't because there is no safe linked up network available for them.
"University Avenue is well used by cycling staff, students and commuters, and we welcome the improvements in the scheme for pedestrians," she continued.
"But 37 per cent of students at Glasgow University have said they would cycle if routes were safer, and so this project could do so much to boost active travel share if the cycling provision is right.
"We need active travel to be given due priority for our city to become less congested, less polluted, healthier and safer."