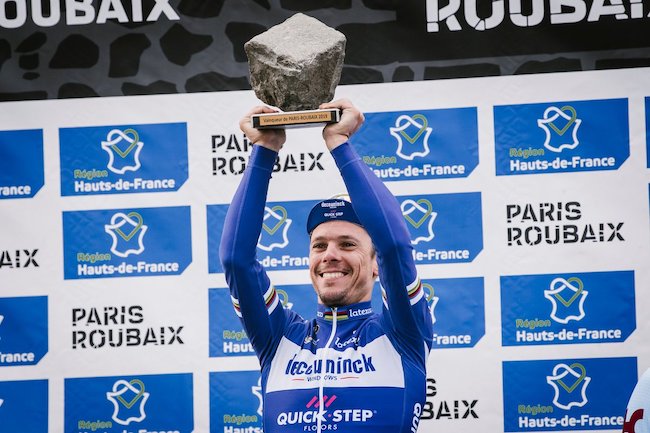 Philippe Gilbert (Lotto Soudal) is no longer a spring chicken, but he's still as ambitious as ever.
Hot off winning Paris-Roubaix this year, Gilbert is raising the bar in his quest to join cycling's elusive "five-win" club. To do that, he needs to win Milano-Sanremo, putting La Classicissima at center of 2020 spring ambitions.
"I am putting a lot of pressure on myself to win San Remo," he said. "It's the one that I really want to win."
"It's my dream to win San Remo," he said. "I know it won't be easy, but everyone said it wouldn't be easy to win Flanders or Roubaix, and I've won both of them."
The monument "grand slam" is one of cycling's most prestigious and most elusive goals. The five one-day races are among cycling's longest, most difficult, and most prestigious titles. Winning all five is not easy. Only three riders — Eddy Merckx, Roger De Vlaeminck, and Rik Van Looy — have managed to pull it off.
"San Remo is the kind of race that a lot of different riders can win," he said, pointing out Vincenzo Nibali and Julian Alaphilippe as recent winners. "I can never say I cannot win it. I know it won't be easy, but this really motivates me."