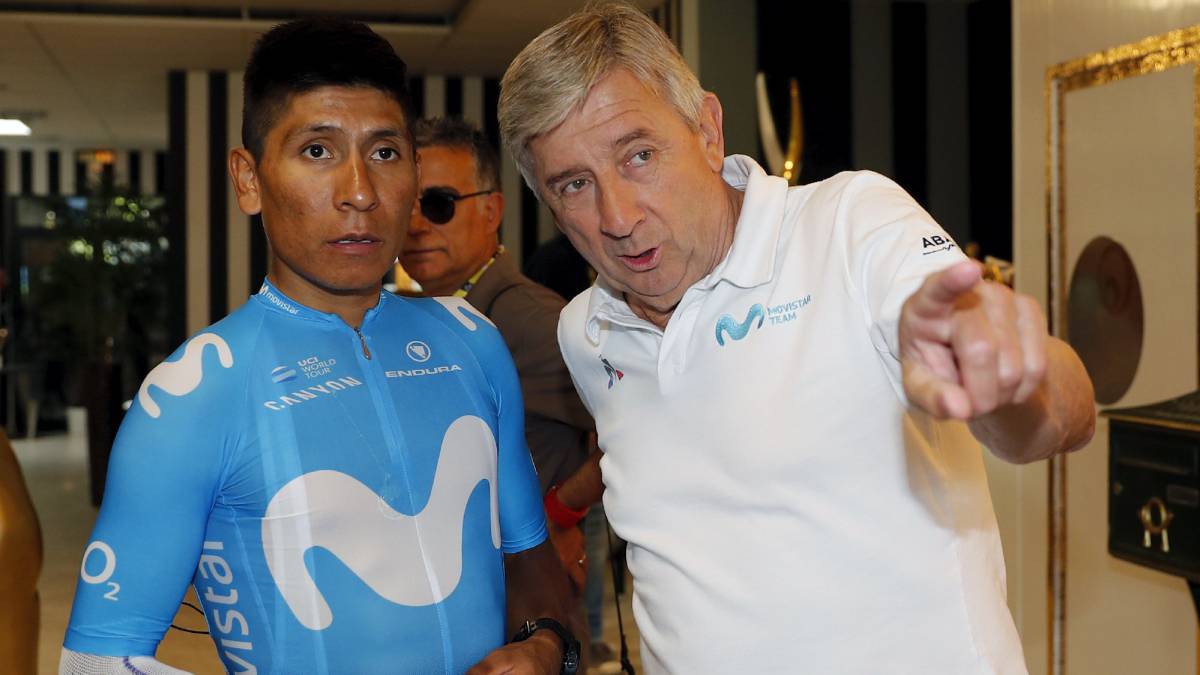 In an interview with El Confidencial, Movistar  team manager Eusebio Unzue answered questions on why Nairo Quintana and Richard Carapaz left, Valverde's focus on GCs, the progression of Enric Mas and more.
Q: Many talented young riders arrive, but with little experience. What are the real objectives this season?
A: There are clearly two blocks: one that mixes youth, experience and quality to do important things right away, and another one of 'rookies' who make the leap from lower categories and are still to have their way. Of the latter, we want them to grasp the team's philosophy as soon as possible and to race with our veterans, especially in Alejandro's shadow. Their objective is to grow little by little.
Q: Is it time to have new philosophy?
A: Yes, up to now we had certain characteristics, but this year in view of the avalanche of riders with different profiles we have to recycle ourselves. The cobbled classics are going to become more and more important at Movistar. Television has turned them into a show. The new generations love these northern European races. It is important for us to find a group of about eight kids who are passionate about these races. Imanol Erviti, Nelson Oliveira… are some of those who can pass on to the younger ones their knowledge of how to compete in such hostile conditions.
Q: On an individual level, what qualities would you highlight in each of these young lads?
A: All of them come from a previous step thorugh the U23 category, where they have already raced with other professionals. They are young, but well prepared. We want them to progress, help them to know more about this profession. As they grow as cyclists we will discover more things: if there are good time trialists, climbers, etc. It is still early days. Let's see if we can come up with something of great quality. Very few of them will be in the Grand Tours this year.
Q: Up until now Movistar has been characterised as a group that mixes well the Spanish product with the Latin American one, but this 2020 there are more nationalities than ever. Orders from above or a consequence of a more global cycling?
A: We report our sporting plans at all times because we are interested in the opinion of the company, but their answer is always the same: "whatever you wish". We are grateful, we know the responsibility involved in wearing the colors of Telefonica. The company has a lot of presence in Latin America and we have to keep looking there. The 'Nairo effect' has led to the emergence of very good racers in Colombia and we are always on the lookout for that market, without neglecting others. In this sense, I believe that our internationalisation is a consequence of a more global cycling.
Q: In all your statements I only read good words towards Nairo
A: It couldn't be otherwise. He was a key man, he has allowed us for five years to dream of a victory in the Tour. He was very close to achieving it in 2013 and 2015, but has had the bad luck to face in this decade Chris Froome. When you see what it has meant for a country like his…to feel part of the rebirth of Latin American cycling is very gratifying.
He has given us a very good solidity. Wherever you went with him you knew he was a man with the ability to get results. He transmitted tranquility, especially when the race went upwards because he was a great climber. A few years ago he made a difference in the mountains. The fight against the clock took him away from greater things, but he was always close to them. He is not with us anymore because we believe that his time to fight for GTs has passed, not for any other reason.
Q: The Olympic Games mark the calendar a bit this year. In the team there are four important trump cards facing Tokyo: Valverde, Oliveira and the track riders, but it is also likely that they will be accompanied by Enric Mas, Marc Soler, Lluis Mas, Cataldo, etc. Does this mean a headache for you when it comes to managing your efforts?
A: The headache comes from their date on the calendar (between the Tour and the Vuelta). For Alejandro it is his biggest goal this season. An Olympics has the importance of being raced only every four years, even if traditionally a World Championship is more important. The problem we have with Alejandro is that he can't finish the Tour to be fresh for Tokyo. Sometimes to achieve a goal you have to give up another. However, we will see because if at the Tour he or one of his teammates is in the lead….for the moment it's too early to make a decision on that. First the Tour, then the Games.
Q: What do you think of the routes of the Grand Tours, which one is particularly striking because of its peculiarities or differences?
A: Once again, the Giro and Vuelta are a bit unpredictable, they have a bit of everything and are a lot of fun. Two countries where you can create stages for anything to happen. They are two uncontrollable races and that guarantees excitement and spectacle. However, almost the entire Tour is quite predictable. It's very restricted, but this time I have to admit that I see it differently, as if without a script. Interesting things can happen. You will see that this time trial on the penultimate day finishing on the Planche des Belles Filles will decide the attitude of some teams. There will be people who value that time trial much more than we do.
Q: Are we talking about Ineos and Jumbo, mainly?
A: Yes because those are 36 kilometers where you can recover up to two and three minutes easily. Thomas, Froome, Dumoulin and Roglic, in theory, have there a day where they know they can make an important difference over their rivals. They are riders who have a great ability in the mountains, but they will also set the pace in the time trial. They will always have that card. We'll go on the offensive. We have to test them in the mountains if we want to have any chance.
Q: Were you surprised by Alaphilippe's performance this past Tour?
A: Yes, although we were all aware of the great quality he has. Somehow he was there, fighting with the best, and gave it all for his country and his people.
Q: Do you think he can win a Grand Tour some day if he sets his mind to it as Alejandro did?
A: They have common characteristics, but at his age Alejandro had a better palmares: podiums in Grand Tours, one week races, one day races, etc. If the stage with the finale in Tignes was not suspended because of the storm, he would have lost a lot of time. I don't think he will end up betting on winning a Grand Tour because, to achieve that goal, he would have to give up races where he is a great contender. When you focus your preparation on a Tour you end up neglecting other important facets.
Q: Well, there are fans who believe that Valverde should have given up GCs long ago to focus on other things.
A: I think not, we would have been deprived of incredible moments. Especially those where he hit the jackpot. He has one Vuelta, but he lost another in a descent (2006). He has been on the podium of the Tour, of the Giro… Why is he going to give all that up? For stage wins? A stage win is for someone who cannot aspire to more, but Alejandro has the ability to win anything he wants and with him you never know until the last day.
Besides, he likes these things. He has another virtue, and that is that he loves that his leader – see Nairo or Mikel – isn't forced to take all the responsibility. If he had given up fighting for GC, yes, he might have won 15 more stages than he has, but… what does it mean for him to win one more? Nothing. You have to value him as much for his conquests as for that ability of always being there. As they say, "cuidado, cuidado que la trinca!". That's a priceless genius.
Q: Are you clear on who will be the leaders in the Giro-Tour-Vuelta? Due to its route the 'Corsa' seems to seduce Enric Mas a little more, do you agree?
A: We'll have to decide. The question is whether to go with one of the three to the Giro or, instead, to bring them all together in the Tour and Vuelta.
Q: What will you demand from Mas this season?
A: To think about the Tour he'll have to acquire an experience that he does not have. He's maturing he must find his own balance. He is going in the right direction, he can end up being a great Tour rider. This year he has already discovered the difficulty of the race and now it is up to him to continue sniffing out all those traps it has throughout its 21 days. Enric still needs two or three years more experience of the Tour.
The problem is that Alberto Contador is no longer there, Alejandro is getting older and we are always looking for new jewels to replace them. We can't think that we already have a great champion. Enric is studying which terrains are good for him, he is still getting to know himself. So far in the big races he has not raced as a leader, he has followed wheels. He has to define himself. He's a man without a great history yet and we have to finish polishing him.
Q: Was his recruitment more of a priority than the renewal of Mikel Landa?
A: Yes. It was already clear to me in the time trial at Torrelavega in the 2018 Vuelta. I told myself that Enric could not get away from us. We've had Mikel for two seasons and he has a great ability to excite the masses, which is still intact. It is probable that some day he will achieve something that with us has not happened, but I insist that Enric was the priority because I saw in him features of a more complete cyclist. He is young, he is 24 years old, and time will tell if we have made a mistake or not.