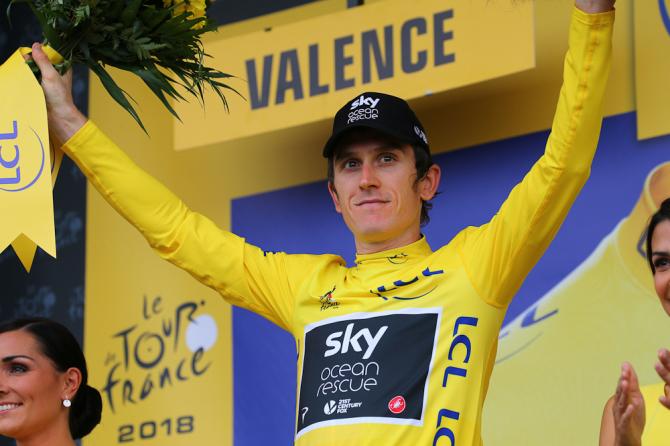 (AFP) – Yellow jersey holder Geraint Thomas hit back at the doubters by claiming Team Sky are racing "100 percent" clean at the Tour de France.
Thomas was dramatically booed off the podium on Thursday after claiming his second successive stage win in the high Alps to reinforce his overall lead.
It compounded a bittersweet day for the British outfit, who saw team leader and four-time champion Chris Froome spat at and pushed heavily by one of the many over-enthusiastic fans who line the 13.8km route to the summit.
Team Sky's dominance of the race has caused the doubters to compare their performances to those of US Postal, the team once led by Lance Armstrong.
"I 100 percent believe in myself and the team, that we do everything in the right way, along with the majority of the peloton as well," said Thomas. "I can't say 100 percent for the peloton, but 99% I'm sure that everyone's doing it the right way, working hard.
"I think it's great for the sport. You look at all the anti-doping and all the tests and that type of stuff, and then you look at other sports.
"Cycling's leading the way by a million miles, so I have every confidence in the sport at the moment."
At the end of 13th stage, won by Peter Sagan, Thomas looked sheepish as he stepped on to the podium to be presented with the yellow jersey.
In comparison to Thursday, there were practically no boos or whistling, incidents that were condemned earlier by race director Christian Prudhomme.
"All I can do is renew calls for calm, for good sense and for serenity with regard to the riders on the Tour de France," Prudhomme said. "Don't whistle and, obviously, don't touch the riders. Even if it's just an over-friendly backslap."
Thomas said he is prepared for the flak.
"Obviously, you'd prefer everyone to cheer you, but I can't affect that," he said. "I'd rather be on the podium getting booed than sat on the bus and being cheered."