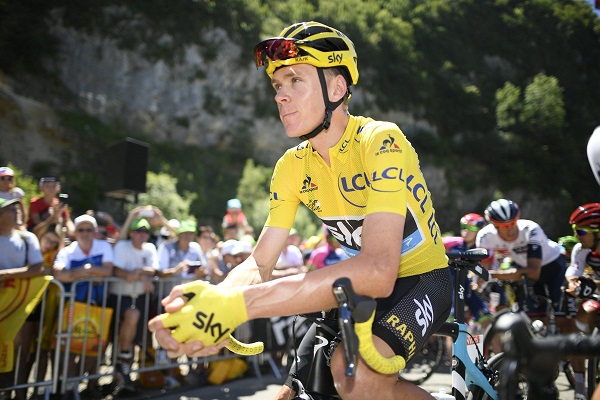 Chris Froome believes the 2017 Tour de France will be "won or lost in the mountains" after a climber-friendly route was unveiled by organisers in Paris on Tuesday.
"Only one time trial at the end with 23 kilometres long, plus a prologue of 13 kilometres," Froome said on Tuesday, weighing up what he had seen minutes earlier during ASO's route presentation in Paris. "So, very light on time trial kilometres. That is certainly going to make it more challenging for me.
"But that is the nature of the game. I am going to have go away now and get my head around, obviously, how to get myself ready for a big battle in the mountains."
The race will contain only 23 climbs – five fewer than 2016 – but four are summit finishes and several are far steeper than those normally tackled by the Tour.
"It is a nice surprise to see La Planche des Belles Filles in there on stage five," he noted. "It's relatively early on, so hopefully the race will settle down and not be too dangerous. Hopefully we will see less crashes when compared to recent editions.
"Obviously for me La Planche des Belles Filles holds some pretty special memories. It was my first Tour stage win back in 2012, so I am looking forward to that.
"Just as general observation, [there are] only three summit finishes in next year's Tour. I think that opens the race up to be very aggressive elsewhere. People won't just be waiting for the summit finishes to try to make their moves.
"There are certainly tough mountain stages that don't necessarily end uphill, so that is going to lead to very aggressive racing."
He added that watching the 2016 Tour highlights at the launch was a further source of encouragement.
"It is certainly an interesting one for us as bike riders [to see the highlights]," he said. "I don't think we reflect much. You are always looking to the next thing.
"So to have been sitting there today and watching those images from this year brings back a lot of emotions. It has given me the appetite now to go away and into the winter, and start really thinking about next year. I am really eager to get into it now."
"The motivation side of it couldn't be stronger for me. I have won the race three times now, and I still want to win it. I am eager to get back there already."