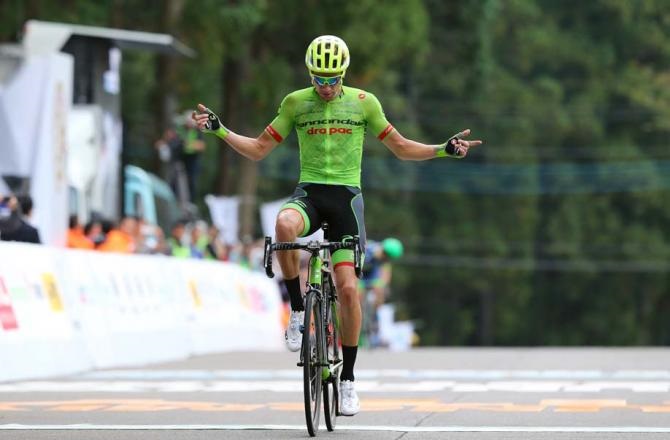 A plan perfectly executed by Cannondale-Drapac delivered Davide Villella to his first professional victory at the Japan Cup on Sunday. Villella attacked on the steepest climb on the final lap of the 14-lap circuit race to solo across the line.
"I have missed a victory all season, so I'm really happy to get the win here today," said Villella. "The teamwork – all of the teammates and all of the staff – was amazing."
"I want to say a very big thank you for the team that believed in me and helped me all the day," Villella added. "We had a great group here, and I could not do it alone."
"We started with one leader in Villella because we knew he has really good shape," said Sport director Eric van Lancker. "He's trained well since Lombardia, where he came in fifth place. We wanted to bring him in good condition into the final."
"When I attacked, I thought: 'This is how I can win this race'." said Villella. "I felt sure if I attacked that I could win. I'm in really good shape at the end of my season."
Villella's confidence proved warranted. He summited the top of the climb with a 10-second advantage over six chasers, and he held his gap all the way to the line.
The 25-year-old said the Japanese fans gave him extra motivation on his solo lap.
"I love the Japanese fans," Villella said. "I've never seen anything like this in my life. They were crowded on the circuit, and they were so excited. It was really an amazing thing."
Japan Cup 2016 results:
| | | |
| --- | --- | --- |
| 1 | Davide Villella (Cannondale-Drapac) | 3:46:43 |
| 2 | Christopher Juul Jensen (Orica-BikeExchange) | +06" |
| 3 | Robert Power (Orica-BikeExchange) | +14" |
| 4 | Manuele Mori (Lampre – Merida) | ,, |
| 5 | Oscar Pujol Munoz (Ukyo) | ,, |
| 6 | Alex Peters (Sky) | ,, |
| 7 | Benjami Prades (Ukyo) | +17" |
| 8 | Javier Megias Leal (Novo Nordisk) | +43" |
| 9 | Yukiya Arashiro (Lampre – Merida) | ,, |
| 10 | Joseph Rosskopf (BMC) | ,, |