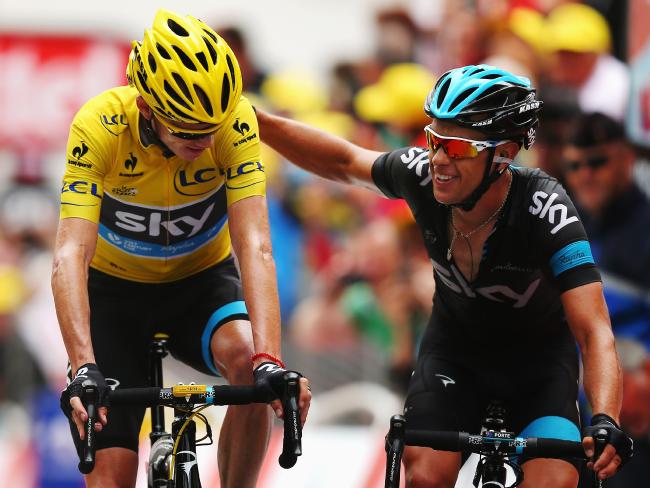 UK Anti-Doping is investigating an allegation that Team Sky injected some of its riders with Fluimucil and other substances to aid recovery even after cycling's world governing body banned needles at races in 2011, according to the Press Association Sport.
None of the substances are illegal under World Anti-Doping Agency (WADA) rules but there are concerns about the ethics of administering them intravenously and the possibility that Team Sky may have breached the 'no needles' policy adopted by cycling's world governing body the UCI.
Fluimucil is a brand name of acetylcysteine, an amino acid important in the synthesis of glutathione, a muscle anti-oxidant that aids recovery. Also used as a decongestant, it is at the heart of the controversy about a mystery package delivered to Team Sky doctor Richard Freeman at the end of the Criterium du Dauphine race in 2011.
Dr Freeman claims the package, which was delivered from Manchester to France by a British Cycling employee acting as a courier, contained Fluimucil and that he gave it to Bradley Wiggins via a nebuliser to clear his airways.
But Press Association Sport can exclusively reveal that a whistle-blower has sent information to the House of Commons' Culture, Media and Sport select committee and Ukad that some Team Sky doctors were using intravenous recovery methods towards the end of the team's difficult first season in 2010 and continued to do so despite the UCI ban, which Team Sky publicly supported.
So-called "IV recovery" was common in cycling a decade ago as it was believed infusions or injections of substances that repair tissue damage and replace lost nutrients were almost essential, particularly in stage races.
The source, who is understood to have worked for Team Sky, has provided Ukad and the select committee's chairman, Damian Collins, with evidence that some Team Sky riders were even injected with Tationil, a glutathione commonly used to whiten skin.
The source has claimed Team Sky hired Dr Fabio Bartalucci in late 2010 after senior riders complained the British team's desire to break with cycling's troubled past and be beyond suspicion was affecting results, as Dr Bartalucci was believed to have expertise in IV recovery.
Some members of staff are understood to have objected to the decision to bring in Dr Bartalucci, who was picked up by police in an anti-doping raid at the 2001 Giro d'Italia but not charged, and the Italian did not stay with Team Sky for long after the UCI needles ban came in. One of the team's original doctors, David Hulse, left the team unhappy about the change of policy on IV recovery.