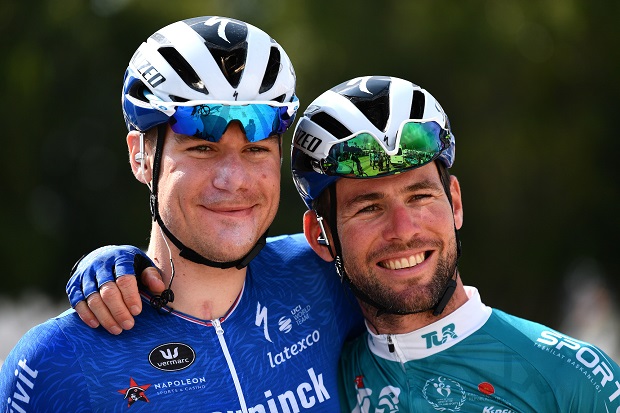 Fabio Jakobsen was told before the season that he will be Quick-Step Alpha Vinyl's sprinter in the Tour de France, but team manager Patrick Lefevere doesn't rule out that Mark Cavendish  will participate in the French grand tour.
Jakobsen, who is back after his horror crash in the Tour of Poland and has won four times already this season, will make his first appearance in the Tour this year.
"He knows that the Tour is my goal and that he will ride the Giro", says Jakobsen. "But he is ready as a reserve. He can do that like no other. And I think he's happy with that role. But uh… His contract was of course only signed at the end of December. Then the first planning had already been made. Although Patrick had said it before, of course."
Lefevere was again asked, after Cavendish's victory in the UAE Tour, about the team for the Tour de France. The Belgian team boss is still considering a scenario in which Cavendish will participate in the Tour.
"I do know that Fabio said on the media day in Calpe at the beginning of January that he should go to the Tour, but I have a long list. I don't like to answer such questions today," he told Het Nieuwsblad.
"I am not Madame Soleil (a French fortune teller)," continues Lefevere. "So much can still happen. See last year… The best goes to the Tour. Cavendish is already on the list of the Giro. Then we'll see. Let's start another part of the season this weekend," referring to the Flemish Opening Weekend.
Brian Holm, who is in his final year as a sports director with Quick-Step Alpha Vinyl, spoke about the problem.
"Nothing is certain yet. Fabio is first on the list, but that is also because Cavendish decided quite late to sign. We even thought for a moment that he was going to stop. For now, Fabio, who is actually flying at the moment, is scheduled for the Tour. But now Cavendish is back. It remains to be seen who will have the fastest legs. Look at what happened to Sam Bennett last year. Nobody expected that."