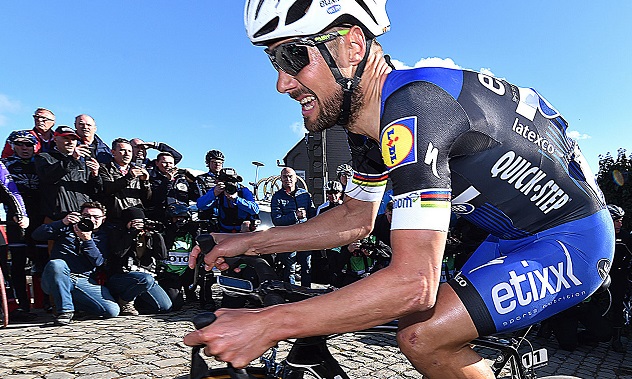 Quick-Step takes over sponsorship, while Etixx is set to remain on board as official supplier.
After being co-sponsor of the team managed by Patrick Lefevere over the past five years, Quick-Step will return as title sponsor of the Belgian World Tour outfit.
Part of the pro peloton since 1998 and title sponsor of the team between 2003 and 2011, Quick-Step has been a major factor in the success of the squad throughout time. The title sponsor of the team since 2015, Etixx will not be featured on the race kit going forward, but will continue as an official partner in the forthcoming season.
"We are delighted that Quick-Step decided to take advantage of this opportunity and become the title sponsor of the team in the 2017 season. We have achieved many goals together and we are eager to keep doing so in 2017. I would like to thank Etixx for their support and underline that our relationship will go ahead, as Etixx will continue to supply the team with their high-quality products. Finally, I want to stress that the budget and the structure of the squad will remain unaltered in 2017", said Patrick Lefevere, the CEO of the team.
"The Quick-Step brand and the pro cycling team share many core values: a commitment to quality results and the continuous introduction of innovations that give us the competitive edge we need to win. These values are the cornerstone of success for both of our organizations", explains Paul De Cock, President of UNILIN, division flooring. "By origin we're also a Flemish company – cycling is in our DNA."