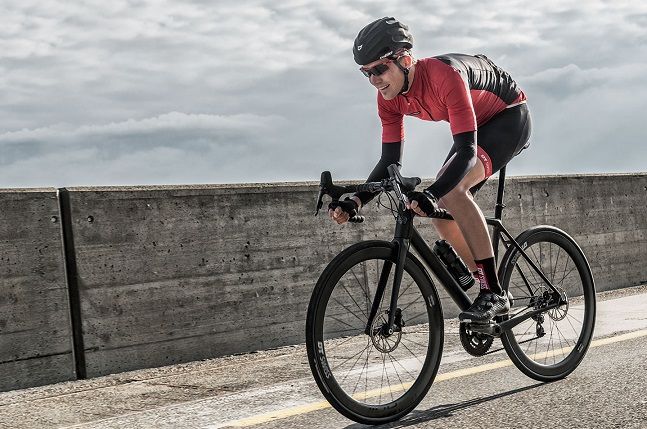 DT Swiss have lifted the lid on the ERC 1100 Dicut – a disc-specific, tubeless-ready carbon fibre wheelset aimed at adventurous endurance riders who value aerodynamics, handling and comfort in equal measure.
The disc brake only ERC 1100s are designed to redefine the top of the growing Endurance Road segment to everything from long granfondo rides and races to all of the dirt and gravel back roads your own neighborhood has to offer.
Said to be the first of many in their major road wheel makeover for 2018, the new ERC 1100 wheels grow wider than any of the current DT road catalog. They also mark the first development partnership with aero specialists Swiss Side to bring an entirely new perspective to aerodynamic wheels, and one that can actually be felt out riding in the wind. Everything is new in the wheels from hubs to spokes to the rims, and offers hints of what more is to come.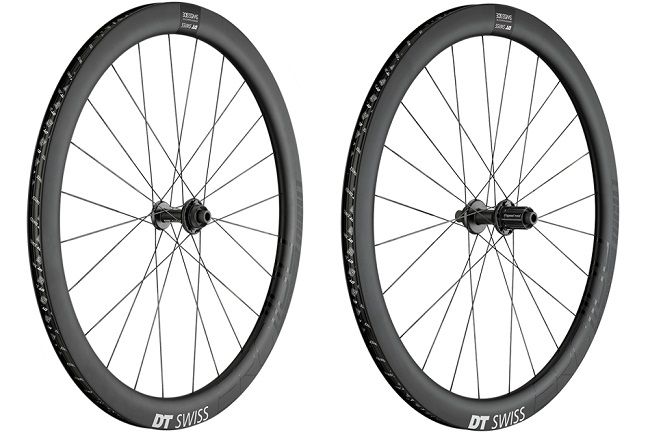 According to DT Swiss, the new wheel is comparable in drag to a Zipp 303 Firecrest, with the results displayed in the graph below. A key difference however, is that the DT-Swiss ERC 1100 DICUT is designed to work aerodynamically with both 25mm and 28mm tyres.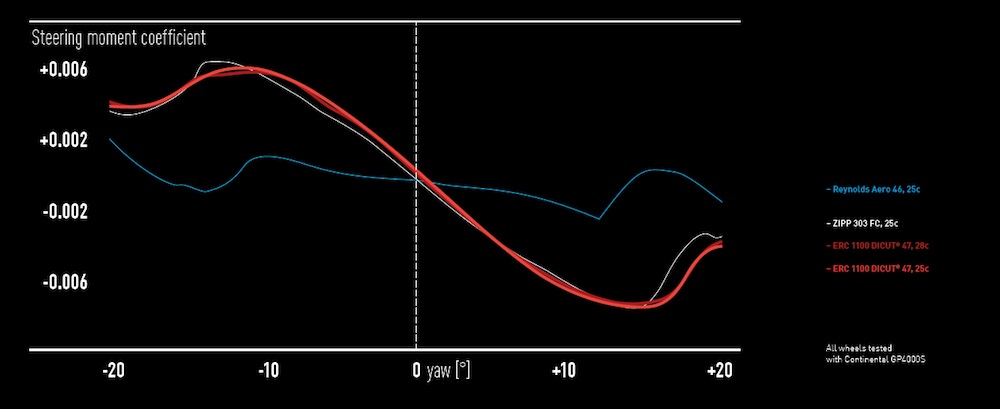 According to JP Ballard the technical director at Swiss Side: "This wheel was developed with a Formula 1 approach. The only thing that matters is what delivers the fastest complete system. The differences between the top level competitor wheels are within 1 watt. So this is not where the big improvements can be made. So we set a strong focus on handling and aerodynamic stability."
Ballard says the objective was not purely to create the fastest wheel in the wind tunnel, but the fastest wheel out on the road. With the ERC within one-watt to its competitors in the wind tunnel, DT Swiss and Swiss Side set about improving the handling of the wheelset.
DT Swiss have designed a new hubset, with a narrower axle diameter and narrow spoke flanges, to reduce drag by 0.4 watts over the regular Dicut hubset. It shares the easily-serviceable, same tool-free design as other DT Swiss hubs and uses a 36-tooth ratchet design with an engagement angle of ten degrees. The hubset also has ceramic bearings.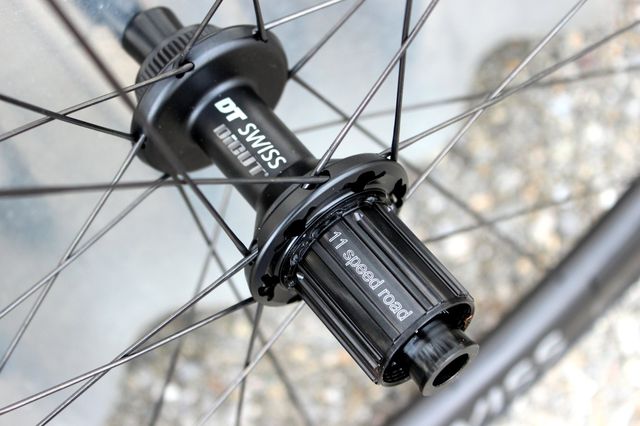 The wheels use thru-axles at both ends, with DT Swiss updating the RWS quick-release system so it now has removable levers, potentially reducing drag again by 0.9 watts. If you remove the lever, it's small enough to keep in a jersey pocket.
SPECS:
Designed in conjunction with Swiss Side
19mm inner rim width (27mm external), optimised for 25mm and 28mm tyres
47mm-deep, U-shaped rim profile for aerodynamics and stability
New DT Swiss Aerolite 2/3 spokes to improve aerodynamics and comfort
Claimed weight 1530g (710g front, 820g rear, 120kg weight limit)
RRP €2,372.72 / $2,519.22 / £1,999.98, available March 2017
Full range of wheels to be unveiled in 2017