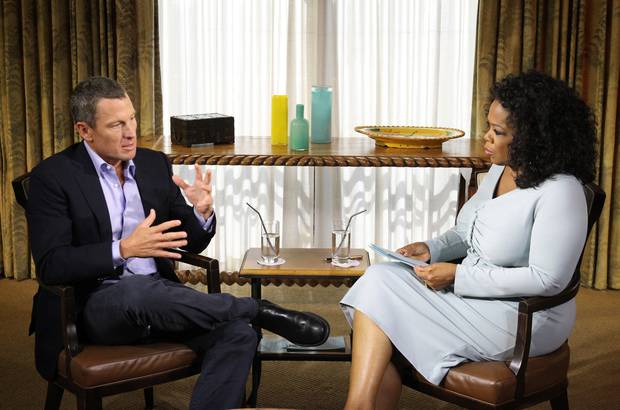 It's been five years since Lance Armstrong admitted to Oprah he'd taken performance-enhancing drugs and the truth continues to cost him.
Armstrong's confession had cost the former seven-time Tour de France winner "in excess of 100 mil" – he said in an e-mail sent to USA Today.
Within four months of saying "yes" to Oprah, Armstrong had five lawsuits on his hands, the newspaper reported. Personally, friends have become enemies, a public and private apology tour being shredded.
Greg LeMond had accused Armstrong of doping and said Armstrong then tried to ruin him, with LeMond's brand of bike suffering as a distribution company pulled out of its agreement over the Armstrong allegation. LeMond's wife, Kathy, said Armstrong's apology wasn't much of one.
"I wouldn't say it was a heartfelt apology," Kathy LeMond told USA Today. "It was a meeting, and I think he hoped to defuse us continuing this."
"All that money he earned, he actually cheated to get it. He didn't earn any of that honestly. It's all ill-gotten gains."
An apology never came for journalist David Walsh. He printed a story in 2004 containing doping allegations, and Armstrong successfully sued the Sunday Times of London for a million pounds.
The two parties settled another lawsuit in 2013 with a pay-out after the cyclist's confession.
"My feeling is that Lance believed this was enough," Walsh told the New York Post. "I never wanted an apology and never expected one — so I wasn't disappointed. But I thought his telling Oprah Winfrey that he would apologise to me was very funny from the interview because he was almost coerced into saying something he never wanted to say."
But, the suits go on for Armstrong. The US government is suing him for $100 million on behalf of the US Postal Service, which paid US$32.3 million to sponsor Armstrong's team from 2000 to 2004.