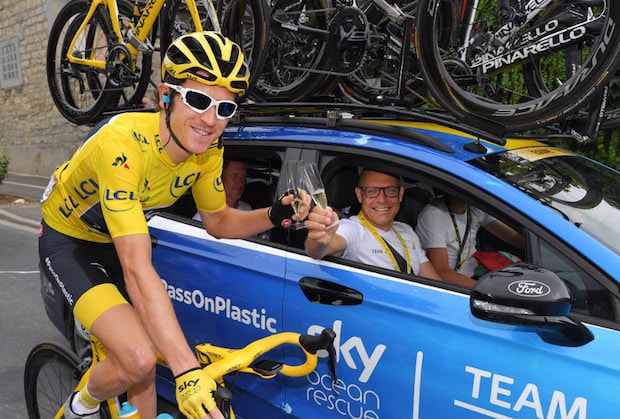 (Reuters) – Team Sky boss Dave Brailsford said he intended to negotiate a new deal for Tour de France champion Geraint Thomas after the Welshman said he was 'open to hearing other options'.
Thomas has been with Team Sky since its inception in 2010, mainly living in the shadows of first Bradley Wiggins and then Chris Froome before his breakout victory this year.
His new-found status as Grand Tour winner would make him an obvious target for rival teams, but Brailsford believes the 32-year-old Welshman is best-served by staying at Sky.
"I am pretty positive this is the best team for Geraint," Brailsford told BBC Radio Wales. "It's not unusual that these guys win something big and it puts them in a different place to when they started out.
"With the contract negotiations we will sit down and thrash it all out. We're a team that wants him, a team where he has been very successful, one where he knows the staff.
"Like anyone he is entitled to listen to other options but I'd like to think we will get it all sorted out."
Thomas rode a superb race to eclipse team mate Froome who had been favorite to win a fourth consecutive Tour de France. However, with Froome and Egan Bernal competing with Thomas to be Sky's top dog on the road, he is not assured of being team leader at future Tours.
"For sure, you want to listen to what people have to say because there are a lot of other strong teams around, it's not just like Sky is up here and everyone is down there," Thomas was quoted as saying by the BBC this week.
"You just need to sit down properly, look at the positives and negatives and go from there.
"It's quite fortunate I didn't sign (a new deal) before the Tour! But the way the team is run works really well for me. But I'm open to hearing other options."
A move to another outfit would allow Thomas the sole 'team leader' status he has never enjoyed but Brailsford says it would not boost his chances of winning another Grand Tour.
"It's always been the case at Team Sky that we have individuals who can perform at the highest level," he said. "In our sport you don't sit down and write a name on a piece a paper and say he will be the team leader next year.
"Take Geraint for example, in order to win the Tour de France (again) he would have to beat Chris Froome and Egan Bernal. In our sport it has a structure where you're on a team with someone but to win you have to be better than them, whether you're in another team or in that team."