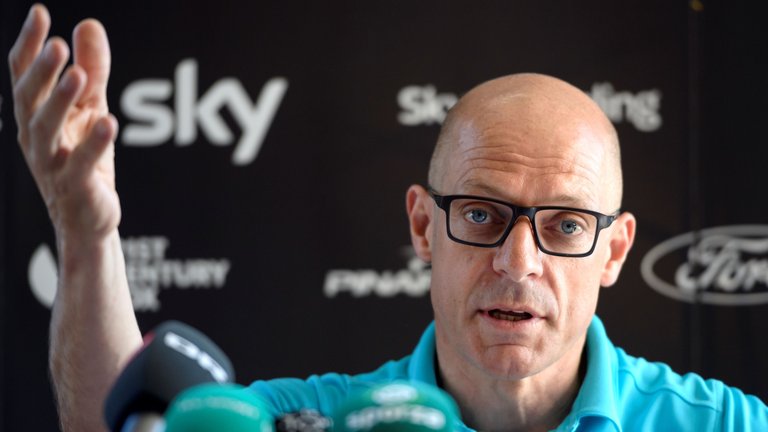 Dave Brailsford hits out at the UK anti-doping chief, accusing him of a lack of professional judgement and insisting he will not be "pulled down into the weeds" with him.
Brailsford had to defend the team's anti-doping record in parliament before Christmas when he revealed a "mystery" package delivered at the 2011 Criterium du Dauphine contained a decongestant called Fluimucil.
David Kenworth, the UKAD chairman has described the evidence given by Brailsford as "extraordinary" and "very disappointing" and warned that his organisation "will not give up" until it has found out what was in the package.
"The only extraordinary thing, I think, was the chairman of Ukad's comments the other day when he commented about an ongoing investigation," Brailsford told Press Association Sport. "As an organisation like Ukad and for the chair to say it is an extraordinary thing – that's the extraordinary thing in itself."
"As an organisation like UKAD and for the chair to say it is an extraordinary thing – that's the extraordinary thing in itself. Most fair-minded people recognise that if there's a process in place to try to establish exactly what went on then we should wait till the end of that process, see what the findings are, see where we are at that moment.
"Once that's all established, then we can move on from there. To try to dive in halfway through and undermine that process is not… for me, I don't think most fair-minded people would think that was the best way of doing it."
Asked if might step down, Brailsford suggested there was no such plan. "Look, I've been doing this a long time and I've been focusing about getting through the winter and getting to this point," he said. "I'm looking forward to getting cracking into the new season and see whether we can improve on our results so far. I'm looking forward to the season and really getting involved in all of that. I'm pretty sure they'll have to conclude their investigation [into the package] and I'm sure that they will report the conclusion of what their findings are."
Brailsford says the turbulent off-season will not affect his position with the team or his focus on the 2017 WorldTour season, which gets underway with the Tour Down Under in Australia, which starts next week.
"I've been doing this a long time, for 20 years, and I know we are doing this the right way," Brailsford told Sky Sports. "My focus is on the season ahead, the goals ahead for the season and where we are going by 2020 – what we are working towards.
"I'll wait until the UK Anti-Doping process is complete and focus on that. I'm confident there is no wrongdoing and therefore I am very much focused on the future and continuing to run this team at the highest level, in the right way.
"Other people will be the judge of me, not me. I am comfortable in my own skin as it were. I know exactly what I am about and what I stand for and I stand for clean sport."