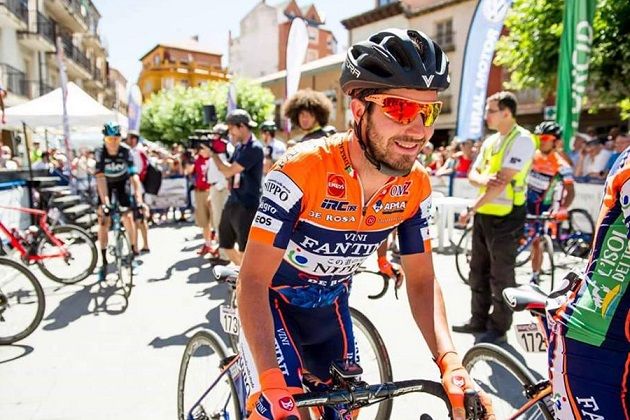 Eduard Grosu is the best Romanian cyclist at this moment and the only one in the country who attended a Grand Tour twice. In the last season, Grosu ranked several times in top 10 in races like Tour de San Luis, Giro d'Italia, Sibiu Cycling Tour and Vuelta a Burgos.
Cycling Today: How was season 2016 for you?
Eduard Grosu: 2016 has not been one of my best years, due to several factors that prevented me from attaining my objectives. I had a good start of the year, but then this inflamed tendon managed to burn everything I had built. From that point on, my morale dropped significantly and I no longer believed in my objectives. I felt I didn't manage to obtain anything and this influenced me greatly.
How was that last stage of Giro d'Italia, when you were so close to victory?
Everybody asks me what would have happened if I had waited. What would have happened is that rider from Lotto-Soudal would have won the stage, and I would have been in for the second place. I didn't want that second place: I wanted victory or nothing. Eventually, I got nothing, but it's OK. Considering that in the 19th stage my shoulder displaced, I think it was a good number, although I didn't win. Many people have told me I was looking back and my hands were on the brake levers, but only I know how painful it was to keep my hands on the handlebars. If you remember, I didn't even stand on the bike, not because I had no strength, but because my shoulder was blocked by bands and pain prevented me from moving it.
You made a strong comeback at the end of the season in China and you also won a stage in Tour of Taihu Lake. How much did this success count for your morale?
I had things that motivated me; I was somehow far more serene and when I don't put pressure on myself, things turn out the way I want. I learnt to take everything more calmly and to focus on certain things. In China, in the first stages I didn't risk an involvement in sprint for fear of an injury. After the mountain stage, I realized that I was among the strongest of the peloton, which brought me the victory and the podium. In professional teams, there must always be a balance, and when in the same race you have two sprinters [Nicolas Marini won, in his turn, a stage] it is hard to make them agree, but we did it and we both won a stage. It is a victory for the morale, but considering my sacrifices and physical values, I have not gained much for such a long season.
Will the centenary edition of Giro d'Italia be your main objective in 2017? What do you think about the route?
I am 90% sure that I will not be riding the 2017 Giro d'Italia, because the course is highly difficult for a sprinter. There are only 2-3 stages for sprinters, and the team decided that I should be one of the leaders for the Japan Tour, where five stages are adequate for me.
You said, at a certain point, that you were training to be a better climber, and the 11th place in the queen stage of Tour of Taihu Lake seems to confirm it. Will you keep being involved in sprints or will you continue this transformation towards a GC cyclist?
At this point, I have to fight against myself, because I have gained a lot of weight over the winter and I have to lose it. Test values prove that, were I as thin as I should be, I would be one of the peloton climbers, but I love eating and this is an issue. We'll see what I manage to become this year.
Nippo – Vini Fantini acquired some very good cyclists for 2017; do you feel there is more competition within the team?
Nippo is definitely stronger. I don't have any problems because I have proven that I can be one of the good sprinters. Each athlete has his schedule and his role, depending on the competition.
Have you planned a schedule for the start of the season? What races will you attend?
My schedule starts with GP Costa degli Etruschi, La Méditerranéenne, Nokere and Hanzdame Classic in Belgium, and then Settimana Internazionale di Coppi e Bartali.
2017 will be an important season also because this is your final year of contract with Nippo – Vini Fantini. Would you like to remain with this team after this season, too?
Now I want to be focused and to attain my objectives. Nippo is a very good team, they helped me gain a lot of experience and it would be a pleasure to continue this project, but I believe that spending too many years with the same team makes you stop evolving because you don't have the same motivation. It remains to be seen what I do and where at the end of 2017.