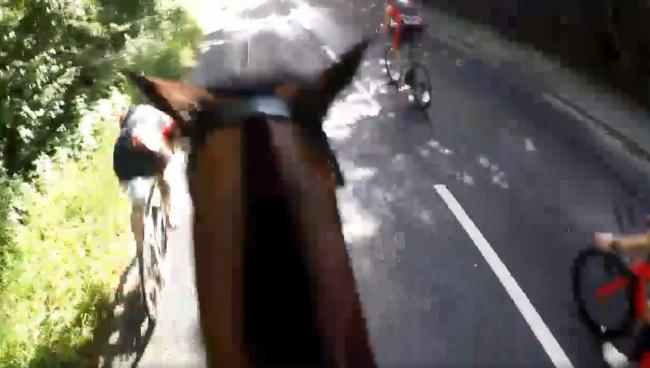 A cyclist who hit a horse undertaking the animal during the cycling section of a triathlon has been ordered to pay £926.
Iain Plumb of Crowthorne, U.K., was taking part in the Royal Windsor Triathlon when he hit the horse and rider, causing the animal to bolt.
The incident was recorded by the woman on the horse and went viral when she published the video.
The behaviour of these cyclists at the Royal Windsor Triathlon is absolutely shocking! I'm a cyclist, a driver, and have friends who ride horses. Frankly I'm embarrassed. Horse riders are vulnerable road users and must always have the utmost respect #RoadSafety #DashCam (1/2) pic.twitter.com/zpbToTp2zp

— DashCamEd (@DashCamEd) June 17, 2018
Plumb was given a life ban from events and he has now been found guilty of riding without due consideration following a trial at High Wycombe Magistrates' Court.
He was also ordered to pay £50 in compensation to the horse-rider, a victim surcharge of £30 and court costs of £630.