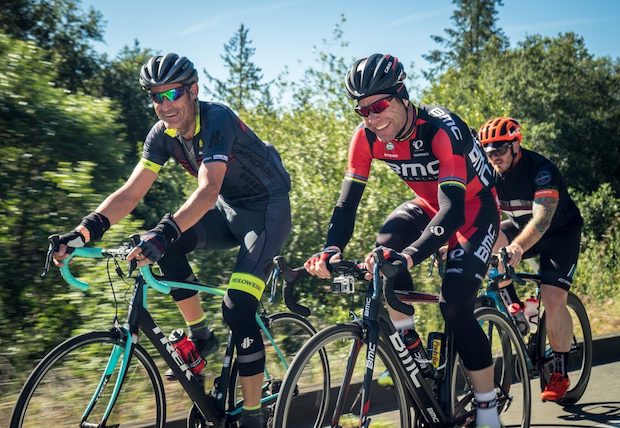 With Christmas a distant memory and spring slowly approaching, thoughts inevitably turn to a season of sportives, racing and long rides with, fingers crossed, the sun shining.
We all have ambitions of riding fast this summer and, after a long winter of training, where slow and steady base miles are largely the order of the day to build endurance, now is the time to up the intensity.
Here are five sessions to ensure you're first over the line this summer.
Weight Loss
Ten minutes warm-up (zone two)
2×7 minute tempo efforts (zone three) with five minutes steady riding (zone two) between each effort
Five minutes steady riding (zone two)
3×2 minute hard efforts (zone five) with three minutes recovery (zone one) between each effort
Five minutes recovery (zone one)
4×30 second maximum efforts (zone six) with one minute recovery (zone one) between each effort
Five minutes cool down (zone one)
Hill repeats
Twenty minutes warm-up – a slow progression from zone one, through zone two, with the last five minutes in zone three.
Five minutes easy (zone one/two)
5×5 minute hill efforts (zone five). Five minutes recovery between efforts – recommend descending the hill, go a few hundred metres past your start point then turn around and ride back ready to start the next effort
Ten minutes cool down (zone one)
Cadence
Ten minutes warm-up (zone two), 90rpm
4×30 second alternate left/right single leg pedalling (zone three), 90rpm, with 30 seconds recovery (zone one) between each
Five minutes steady riding (zone two), 80-90rpm
3×8 minute cadence drills (zone three). These should be done as one minute at 60/70rpm and one minute at 100/110rpm, repeating four times for a total of eight minutes
Six minutes recovery (zone two) between efforts
Five minutes cool zone (zone one)
Sprinting
Twenty minutes warm up – a slow progression from zone one, through zone two, with the last five minutes in zone three
Five minutes easy (zone one/two)
4×15 second standing start sprints – use a gear that allows you to get off the line yet means that your cadence at the end of the effort doesn't exceed 100rpm (suggestion is 53×17-19). Three minutes easy (zone one) between efforts
Ten minutes easy (zone one/two)
4×15 second cadence sprints – sprints from a rolling start (25-30kph) in a small gear where cadence exceeds 120rpm for the entire 15 seconds. Three minutes easy (zone one) between efforts
Ten minutes easy (zone one/two)
4×15 second max sprints – sprints from a rolling start (25-30kph) in a gear that means you can sprint as fast as possible for 15 seconds, feel free to shift down during these efforts. Three minutes easy (zone one) between efforts
Ten minutes cool down (zone one)
Sweetspot (for long climbs)
Twenty minutes warm-up – a slow progression from zone one, through zone two, with the last five minutes in zone three
Five minutes easy (zone one/two)
2×20 minute sweetspot efforts (upper zone three/lower zone four). During these efforts every two minutes you need to incorporate a ten second out of the saddle burst. This isn't a sprint! A burst means clicking down two or three gears and pushing on out of the saddle (for those training with a power meter 120-150% FTP). Once the burst is finished settle straight back down into sweetspot effort
Fifteen minutes recovery (zone two) between efforts
Ten minutes cool down (zone one)