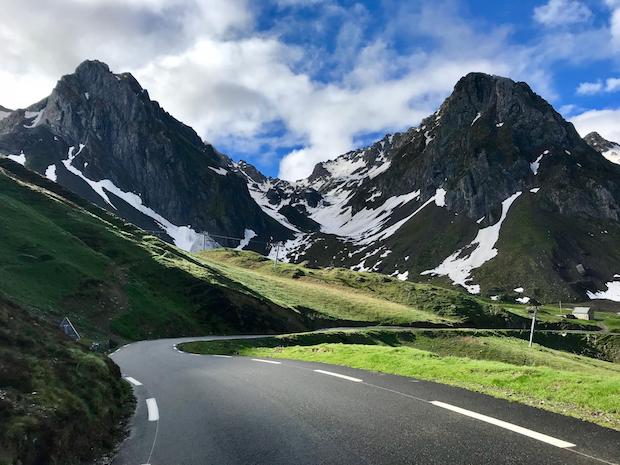 Without question the Col du Tourmalet is one of the all time greats of cycling, first featuring in the 1910 Tour de France and with over 80 appearances since make it amongst the very oldest, and the most frequently used, climb in the history of the race.
As the highest road pass in the French Pyrénées the Tourmalet is a special place, almost sacred to cyclists throughout the world.
From the west the climb starts in the pretty mountain village of Luz St Sauveur, where you face 19 kilometres on your journey up to the summit at 2,115m.
As with any climb of this length the early part feels as much of a mental game as it is physical. The kilometres tick down slowly the road remains wide with little to take your mind away from the 8% gradient. Settle down and find your pace, you'll need to keep some in reserve for the second half of the climb.
On entering Barèges the road kicks again, reminding you once more that the Tourmalet means business but it's at mid distance when choices have to be made. Remain on the D918 and a beautiful set of switchbacks await, however if you're feeling a little more adventurous then it's time to head right and onto the Voie Laurent Fignon, the old Tourmalet road that is now only open to cyclists. With faded road markings from the Tour de France this road has a certain energy that can still be felt from the race and, in my opinion, it's the only road to take on the way up gifting you magnificent views of the main road below and the distant valley.
As you join the main road once again you now have just 4 kilometres to go as the Pic du Midi de Bigorre observatory comes into view, standing proud at 2,877m. It's now that you can get a really good look at the summit as the road snakes back and forth ahead. Take a moment to catch your breath and enjoy the sensational views as the gradient momentarily eases with 2 kilometres to go. Be warned, you don't have long before it pitches up again and you're into double figures all the way to the summit where the iconic Octave Lapize statue awaits your victory salute!
Start: Luz St Sauveur
Length: 19km
Summit: 2,115m
Elevation gain: 1,404m
Average gradient: 7.4%
Max gradient: 13%