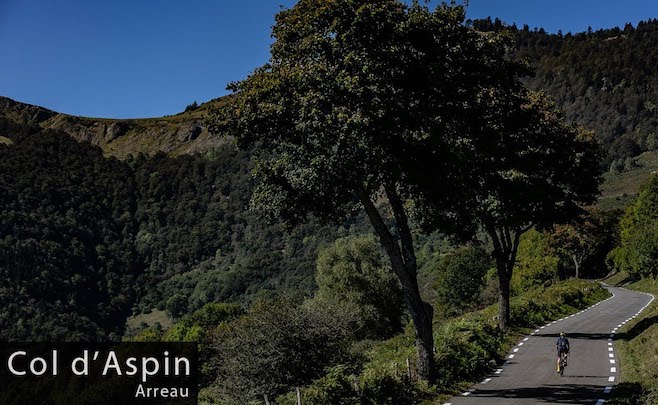 Nestled between the infamous Col du Tourmalet and Col de Peyresourde in the beautiful Hautes-Pyrénées, the Col d'Aspin has a long and illustrious history with the Tour de France, first featuring in the race as part of the inaugural mountain stage (a mere 326km from from Luchon to Bayonne dubbed the Circle of Death) in 1910.
Starting from the charming village of Arreau on the river Neste, the eastern side of the Aspin is a 12 kilometre gift of vast mountain views and jagged peaks from the early kilometres all the way to the summit. It's rare to be able to see the the summit of a climb within the first kilometre of starting it, but if you look closely that's exactly what you can do on the Aspin, offering you gentle reassurance of your goal.
Use the first part of the climb to find your rhythm. The occasional near double digit gradient is only momentary and allows time to recover and enjoy on the easier sections. As you climb high above the Aure valley, the surrounding mountains become even more resplendent leaving you in awe at their mystique and magnificence. It may not be the highest or hardest climb in the Pyrénées but be sure to save some gas in the tank for the second section where the final 5 kilometres average 8%.
I've ridden the Aspin many times now and on each occasion it creates a certain feeling inside that brings peace and tranquility to the day. From wildlife roaming free to endless mountain views the Aspin has a richness in its character that no matter what's going on in your world it simply makes you feel alive!
Start: Arreau
Length: 12km
Summit: 1,489m
Elevation gain: 799m
Average gradient: 6.5%
Max gradient: 10%