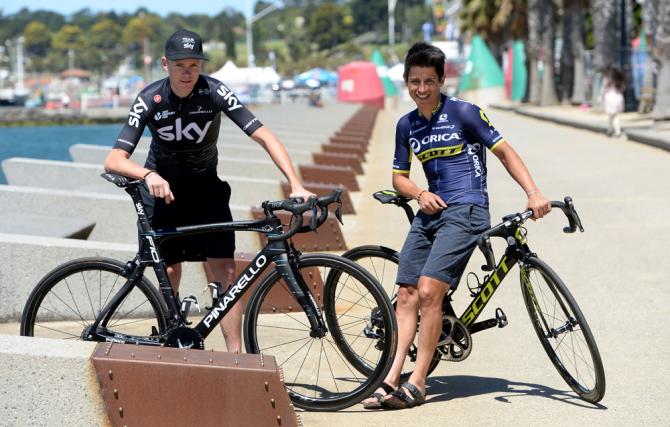 Chris Froome is going to give it 'everything he's got' in Sunday's Cadel Evans Great Ocean Road Race as he starts his 2017 season in earnest.
Froome kicks off his campaign tomorrow with Race Melbourne, a criterium warm up ahead of Sunday's WorldTour test, but he's been in Australia for two weeks training hard. And next week the 31 year old will attempt to defend his Herald Sun Tour title as he begins his stage race build up to the Tour de France.
He said: "It's good to be down here. It's how I started my season last year, down in Australia, and I came out a bit earlier this year. I've just done a good training block before kicking off the racing.
"It's about soaking up the good weather, getting the miles in that are hard to do at this time of the year over in Europe, and also enjoying the crowds."
Froome is hoping to be there at the business end of the Cadel Evans Road Race: "My motivation is right up there. I'm certainly not in Tour de France shape but I'm going to give it everything I've got. We'll see what that ends up with.
"We've got a strong team out here and we'll have a few different options; a few different cards to play. It should be a really good battle out there."
The three-time Tour de France winner should be nicely warmed up after Thursday's Race Melbourne criterium too, a 116km blast around Melbourne's F1 circuit.
He added: "It will hopefully be less of a shock to the system when I get onto the start line on Sunday with tomorrow in mind. It will be rapid – it's obviously quite short, there's quick laps around there, so that's definitely going to help to top up the lack of race speed I've had."