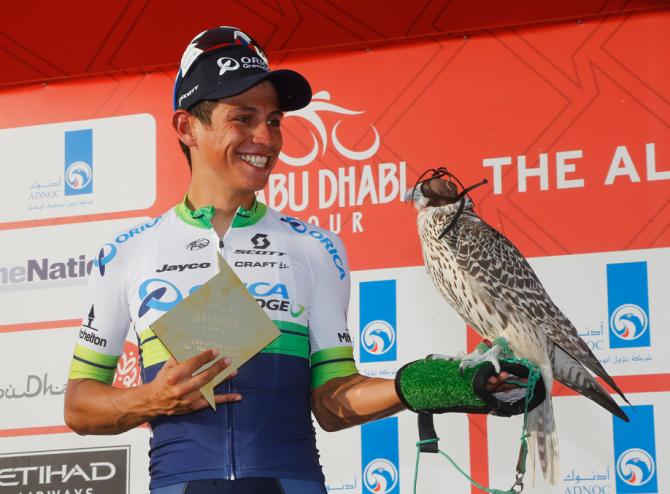 Il Lombardia winner Esteban Chaves will launch his 2017 season in Australia in January.
The self-named 'Colombian Kangaroo' will kick start the year at the Tour Down Under (14-22 Jan) in Adelaide before travelling to Victoria for the Cadel Evans Great Ocean Road Race (29 Jan) and Jayco Herald Sun Tour (1-5 Feb).
Chaves, who had a breakout 2016 with podium finishes at the Giro d'Italia and Vuelta a Espana as well as his historic Il Lombardia victory that saw him become the first Colombian to win a cycling monument, is looking forward to contributing to the team's all-important Australian campaign.
"These races are super important for ORICA-BikeExchange," Chaves said. "We can only race in Australia for these three races each year so I am happy to be with them for this. The boys are super motivated to race near their homes and I am a little bit Australian now so I am happy for this too.
"This year we set some big goals and we meet and pass them many times, especially with the Giro d'Italia, Vuelta a Espana and Il Lombardia. Sometimes I don't believe all of this happened.
"Next year, we will start a little different in Australia but we will again set some big goals for hope this success again."
Returning to Australia for the first time since November 2013, Chaves said he is looking forward to repaying Australian fans for their unwavering support.
"I am really excited to go back to Australia," the 26-year-old said. "I want to see every single fan that supports me, but I want to see them properly, so we chose to start the season in the Australian summer for this reason."
"Actually, I don't have the best memories of last time I was in Australia. I don't speak English so can't speak with anyone and also I am suffering a lot in the training. For sure this time will be a lot different.
"When I go to one new place I like to see how the local people live, what the local people eat, what the local people do, the culture and mentality. I am super excited to look at all these different things, understand Australians even more and learn why Australians are super nice persons with everyone."