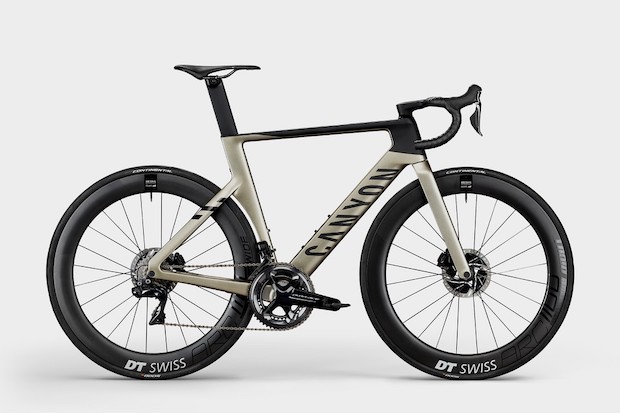 Canyon has finally revealed the new Aeroad oad bikes with improved aerodynamics, internal cables and a reduced weight. 
After more than four years of development, Canyon says its new Aeroad not only cheats the wind, but defies gravity as well, tipping the scales at a feathery 915g for their top-tier model – the Aeroad CFR.
Below the Aeroad CFR, are the CF SLX and CF SL, which are no slouches either when it comes to weight, with both models dipping below 1000g.
Canyon was able to put the Aeroad on a diet via a revised carbon lay-up process, as well as optimizing its existing components such as the seatpost and clamp design, along with other cockpit bits-and-pieces, while the frame's aerodynamic signature was reduced thanks to new wider, deeper kammtail shaped tube profiles across the board.
In the end, Canyon claims wind-tunnel testing showed that the new Aeroad saves 5.4 watts at 45kph across a range of yaw angles from -20 to +20 degrees over the outgoing model.
Integration was also an important factor when developing the Aeroad, which now routes all cables and hoses courtesy of Canyon's proprietary CP00018 Aerocockpit. However, the system is only compatible with electronic drivetrains such as Shimano Di2, Campagnolo EPS and SRAM eTap.
In the case of the CF SL, the German brand sticks with its CP10 Aerocockpit, which uses a traditional stem and handlebar set-up.
Not surprisingly, tire clearance is also up on the new Aeroad, accommodating tires as wide as 30mm.
Additionally, Canyon took a universal approach to geometry as well, matching the same specs as its Ultimate model, essentially creating a unisex range of sizes. However, they were keen to create a women's-specific build for the CF SL, offering a 3XS and a 2XS with 650b wheels.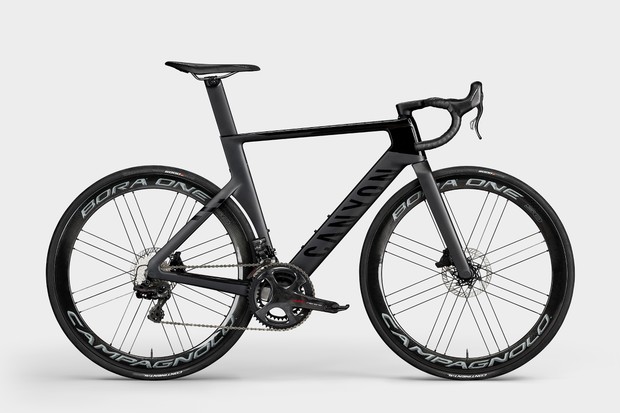 Canyon Aeroad CFR EPS
Frame: Canyon CFR
Fork: Canyon FK0060
Handlebar: Canyon CP0018 Aerocockpit
Groupset: Campagnolo Super Record EPS
Wheels: Campagnolo Bora One 50
Colors: Stealth
Weight (claimed): 7.32kg
Price: £9,299 / €8,999 / $9,099 / AU$14,099


Canyon Aeroad CFR AXS

Frame: Canyon CFR
Fork: Canyon FK0060
Handlebar: Canyon CP0018 Aerocockpit
Groupset: SRAM Red eTap AXS, with SRAM Red AXS power meter
Wheels: DT Swiss ARC 1100 Dicut 62 DB
Colors: Stealth
Weight (claimed): 7.32kg
Price: £8,199 / €7,999 / $8,099 / AU$12,549


Canyon Aeroad CFR Di2

Frame: Canyon CFR
Fork: Canyon FK0060
Handlebar: Canyon CP0018 Aerocockpit
Groupset: Shimano Dura-Ace R9170 Di2, with Shimano FC-R9100-P power meter
Wheels:  DT Swiss ARC 1100 Dicut 62 DB
Colors: Stealth, tinted chrome
Weight (actual): 7.3kg, with two bottle cages and included GPS computer mount
Price: £7,699 / €7,499 / $7,599 / AU$11,749


Canyon Aeroad CF SLX AXS

Frame: Canyon CF SLX
Fork: Canyon FK0060
Handlebar: Canyon CP0018 Aerocockpit
Groupset: SRAM Force eTap AXS
Wheels:  DT Swiss ARC 1400 Dicut 62 DB
Colors: Stealth, pro white
Weight (claimed): 7.73kg
Price: £5,499 / €5,299 / $5,349 / AU$8,299

Canyon Aeroad CF SLX Di2

Frame: Canyon CF SLX
Fork: Canyon FK0060
Handlebar: Canyon CP0018 Aerocockpit
Groupset: Shimano Ultegra R8170 Di2
Wheels:  DT Swiss ARC 1400 Dicut 62 DB
Colors: Stealth, pro white, blue in blue
Weight (claimed): 7.57kg
Price: £5,199 / €4,499 / $5,049 /  AU$7,849