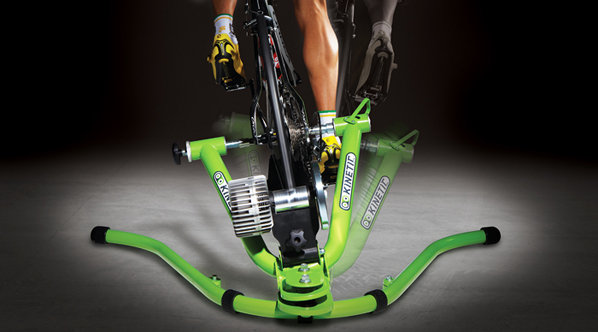 The turbo trainer market has massively evolved in recent years with the introduction of 'smart' trainers, which offer wireless connectivity in order to pair the trainer with a range of accessories and apps.
What's a smart trainer?
A standard indoor trainer has a stand to support your bike at the rear wheel and a resistance unit driven by the rear tyre. In a smart trainer the resistance unit has built-in electronics that, at the very least, transmit your speed to an ANT+-capable device. Some smart trainers also include power meters so you can train by that metric too.
You can use Zwift with just a regular trainer and ANT+ bike sensors, but more and more riders are choosing to go down the smart trainer route.
Wahoo Kickr €986 / £950 / $1,099 
Wahoo's Kickr has plenty of competition these days but it's still the ultimate user-friendly benchmark in smart training – if you have the budget and can carry its 20kg bulk.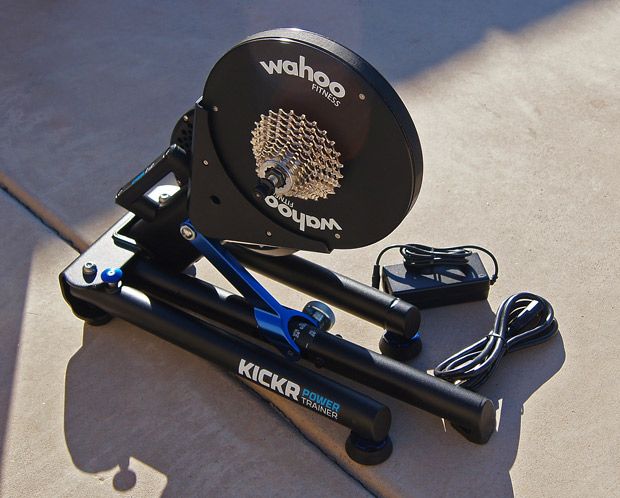 It comes complete with a cassette and is ready to ride once you've unfolded the legs. The extra-long quick-release lever creates a secure anchorage and is compatible with all axles. The direct-drive feel is excellent, with a great speed sustain, realistic resistance and power readings that are responsive and precise.
Syncing to Bluetooth or ANT+ devices is simple, the free Wahoo app is comprehensive, intuitive and works with third-party software. Its super-heavy build makes it a reliable long-term workhorse and while it's pricey, the Kickr delivers an enjoyable experience.
Tacx Vortex Smart €421 / £375 / $530
Tacx Vortex Smart features a simple electronic brake, which can help simulate gradients of up to seven per cent. The chief benefit of this form of electro-magnetic resistance is that, like the Bkool trainer, there are no contact points generating resistance, making the system relatively maintenance-free and quiet. Again, like the Bkool, it's a wheel-on unit, which creates an estimate of power.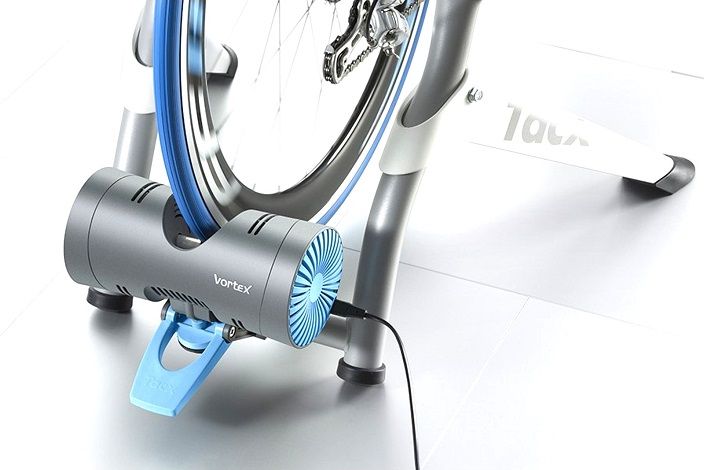 The trainer is compatible with Tacx's software for smartphones, tablets and Windows computers, and that gives you the option to use the Vortex Smart to follow training sessions, as well as train according to gradient, heart rate of power. You can also compete against other riders online.
Some climbs on online platforms can reach over seven per cent, but Tacx have also developed a virtual system whereby the power you generate is translated into an equivalent speed on the Tacx online system, so that they can compete fairly against those using the full motor brake of the more expensive models.
Tacx also offer downloadable films that detail world-famous courses like the 2013 Amstel Gold Race and various Ironman bike courses, for those wanting to take advantage of Tacx's tie up with the long distance triathlon brand.
Bkool Smart Pro €425 / £379 / $474
One of the less expensive fully smart trainers, this is a well-made unit with resistance controlled from the software on your laptop or tablet, matching that of the virtual climb you are tackling. It's a really solid option for a pretty reasonable price.
Its software runs on PC, Mac or a tablet (Android or iOS). You create a ride via the website, then fire up the software and do your workout. If you skip the website bit then you can pick a workout from a selection of 20 rides that other users have scheduled, play a velodrome game or re-ride something you'd previously recorded for real on Strava (you can pair the two things up).
With a paid subscription to the website you've got a wide selection of first-person video rides to choose from. The harder you pedal, the faster the footage plays, and the resistance varies with the gradient of the hill.
This gives an immersive experience that some riders prefer to the computer-games feel of Zwift. It looks best if you've got a nice big telly set up in front of you, and you'll need a decent internet connection.
Kinetic Rock & Roll 2  €522 / £465 / $569
The RnR II has a massively heavy and bulky lower frame that attaches to the bike and brake mount section, and sits on a large rubber block that allows you to lean as you corner and the whole device to swing during out-of-saddle efforts.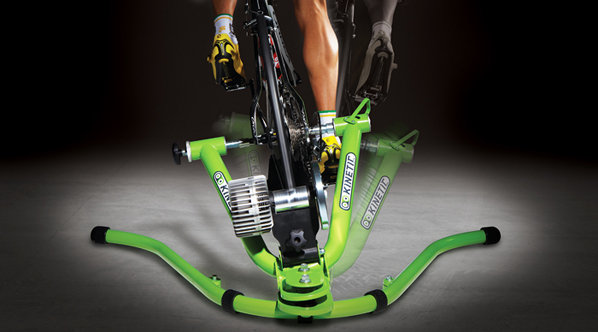 It definitely needs the dedicated swivelling front-wheel mount to naturally correct sideways flop, but it feels surprisingly realistic, particularly when used with a POV ride simulation or race footage. Add a massive flywheel and fluid brake and you've got the smoothest, longest-spinning and most natural-feeling trainer here. The £80 inRide pod turns it smart with a reasonably accurate wattage reading plus cadence, speed and other data using the free Kinetic app or other synced software.
CycleOps Magnus €606 / £540 / $675
CycleOps' Magnus trainer's USP is the use of sister company PowerTap's technology to offer, CycleOps say, improved power readings from the resistance unit, with accuracy claimed to be +/- five per cent.
Like the Bkool and Tacx trains featured here, it too uses a wheel-based drive system, set upon CycleOps' tried-and-tested 'Classic' trainer frame. The Magnus can generate 1500 watts of resistance – enough for practically anyone.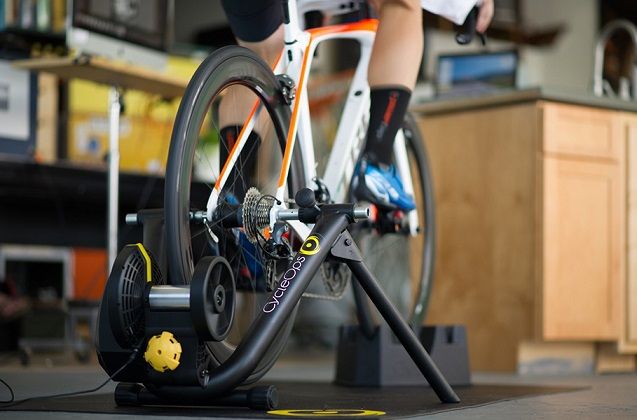 The Magnus communicates via ANT+ FE-C and Bluetooth Smart and, as well as being compatible with a range of third-party software, runs with CycleOps' own VirtualTraining software, which offers thousands of routes (included streamed video), detailed analysis, the capability to ride against other cyclists, intervals sessions and power tests.
The Magnus is also capable of housing 142x12mm and 148x12mm thru-axles, as well as the common quick-release skewer systems used by most trainers. It will also take a wide range of wheel sizes – although, note that you can't use 650C and some 29" tires, if that's your thing.