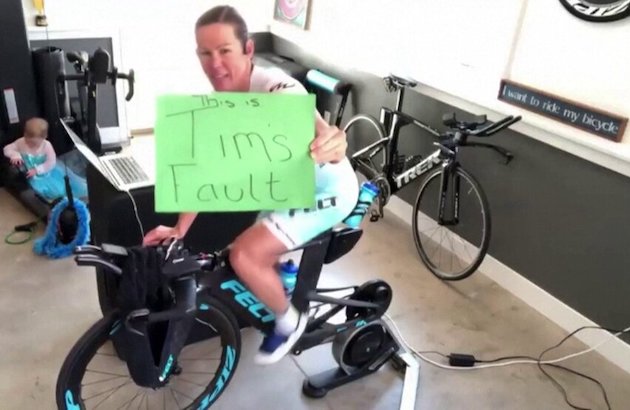 Two-time world Ironman triathlon champion Mirinda Carfrae lost out in a virtual race after her husband tripped and disconnected the power cable of her smart trainer.
Carfrae was doing well on the 90km bike leg against American Jocelyn McCauley, Canada's Angela Naeth and Jeanni Seymour of South Africa, with the race being shown on Facebook.
That was until she suffered a "virtual" mechanical failure when her husband Timothy O'Donnell tripped over the cord of her smart trainer, disconnecting it from the outlet and putting her out of the race.
"He decided to bring my trophies in here as motivation and when he walked around the back he kicked out the plug. What an idiot," said a smiling Carfrae.
On her Instagram story, she tried to see the funny side, but admitted she was "super-bummed" to not finish the race. "Tim is racing next weekend and I won't pull his cord out," she said.