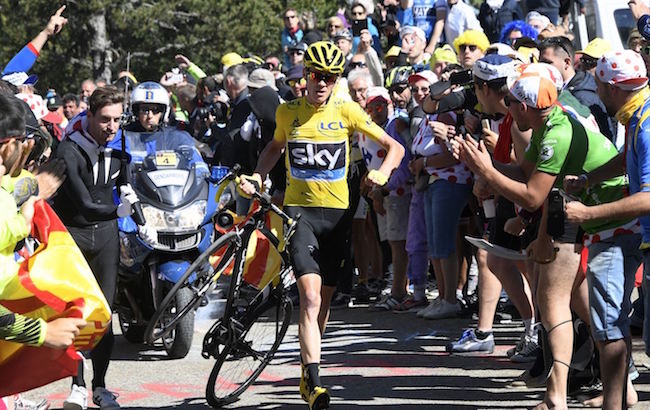 (AFP) – Over 30,000 security agents will be deployed to protect riders during the Tour de France, after the head of world cycling called for a safe environment for British rider Chris Froome.
The world's biggest cycling race starts on Saturday, just days after four-time champion Froome was cleared of doping suspicions by the Union Cycliste Internationale (UCI), headed by David Lappartient.
In a post on his Twitter account, Lappartient said the UCI's decision should be respected, as should "all riders, including Chris Froome".
"I have heard calls, sometimes completely irrational, to violence on the Tour de France," he said. "I cannot accept that and I call on all spectators to protect all the athletes and to respect the judicial decision so that Chris Froome can compete in a safe and serene environment like all other athletes."
Tour de France security chief Pierre-Yves Thouault told AFP that he shared Lappartient's concerns but was ready to unleash a huge security operation to police the 10 to 12 million fans expected to turn up to watch the race this year.
"There will be 23,000 police and 6,000 firemen," Thouault told AFP, adding several thousand private security agents would also be deployed. "We are concerned with mountain top finishes," he said.
"But we will not be focusing more on one team than on any other," he said, mentioning one notorous mountain stretch of the three-week Tour.
"The top section of the Alpe d'Huez will have over 3.5km of railing on either side," he said of the climb notorious for attracting huge unruly crowds where punches have been thrown, and urine splashed on competitors including Froome.
"We'll have several hundred officers on that hill, we know how it can be," he said, stressing that communications between security officers was the key to safety alongside multi-lingual signs.
A gendarme engaged in Tour security said the key message was for all spectators to keep calm.
"We call for calm, stand back and above it all and don't pay too much attention to any wild statements, the important thing is to stay calm and let us do out job," he said
Thouault said security arrangements had been agreed between Tour organisers and the Ministry of the Interior with the Tour paying around four million euros of the security budget.
"I feel the need to say to cycling lovers, to lovers of the Tour de France, that the decision that was taken (to drop the case against Froome) was taken on the basis of reports from experts which led the World Anti-Doping Agency (WADA) to consider that no violation of anti-doping rules had taken place.
"And from this point on, that decision must be respected," Lappartient added.
Opposition to Froome had been building in France ahead of the Tour, with five-time Tour winner Bernard Hinault labelling him a cheat and organisers barring him from riding before being foced to relent earlier this week and lifting the ban.
Froome is out to emulate five-time winners Hinault, Jacques Anquetil, Eddy Merckx and Miguel Indurain when he competes for a fifth win in the three-week Tour.
A win would also make Froome the first man to win a Giro-Tour de France double in the same season for twenty years.