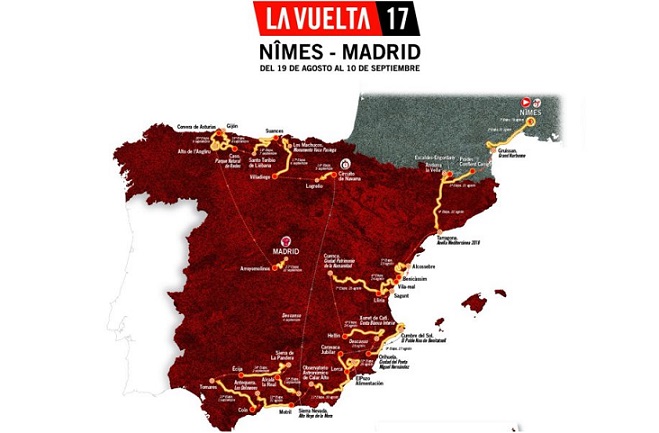 Unipublic released details of another demanding 2017 Vuelta a Espana on Thursday featuring nine mountain finishes and an opening stage outside of Spain for just the third time in Nimes, France, on August 19.
Other traditions will be respected with the opening stage a team time trial and the race ending with a parade around the central streets of Madrid on September 10.
A 42km individual time trial to start the final week could prove vital before the slog up the legendary Angliru, Spain's toughest single climb in the northern Asturias region, on the penultimate stage.
The route will do little to ease complaints from many riders in recent years that the Vuelta's obsession with punishing mountain climbs and the searing Spanish summer heat has overstepped the mark between sporting challenge and creating a good spectacle.
There is one fewer mountain finish than last year in the 2017 route with the nine summit climbs split evenly into three groups of three either side of the two rest days.
After leaving French territory after the first two stages in Nimes and Narbonne, the race heads into Catalonia via Andorra.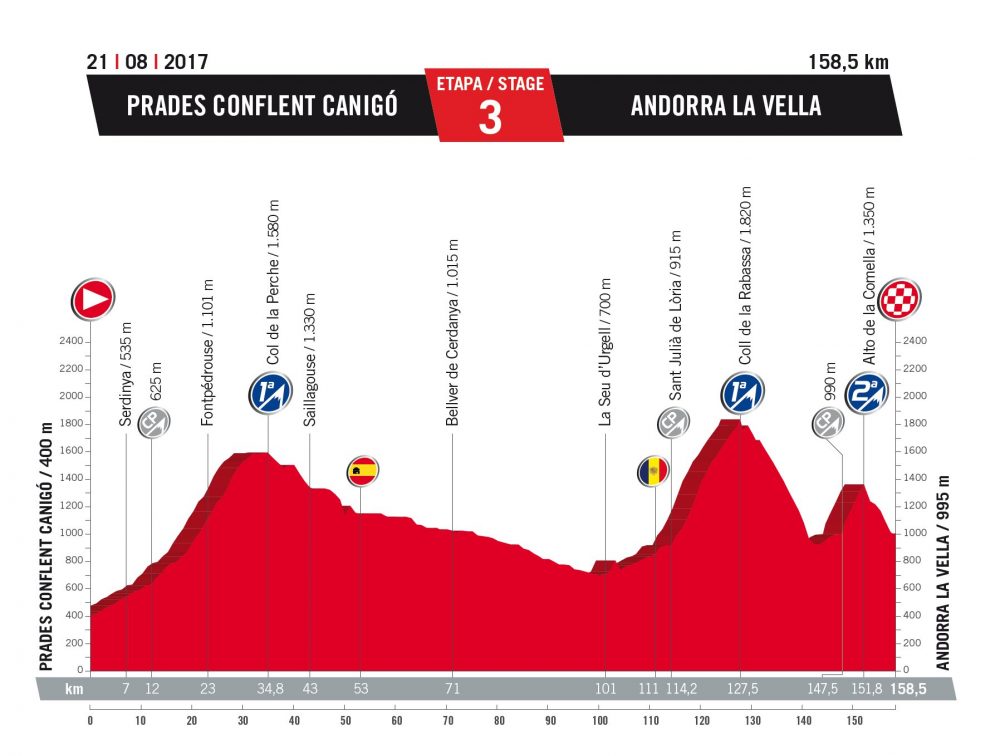 The first week finishes in the Valencia region before the second week in mainland Spain's most southern Andalusia province will see the riders face soaring temperatures.
The race then jumps from south to north with the final week beginning with the individual time trial in Navarra which should be to reigning Tour de France winner Chris Froome's liking should he decide to target a maiden Vuelta win.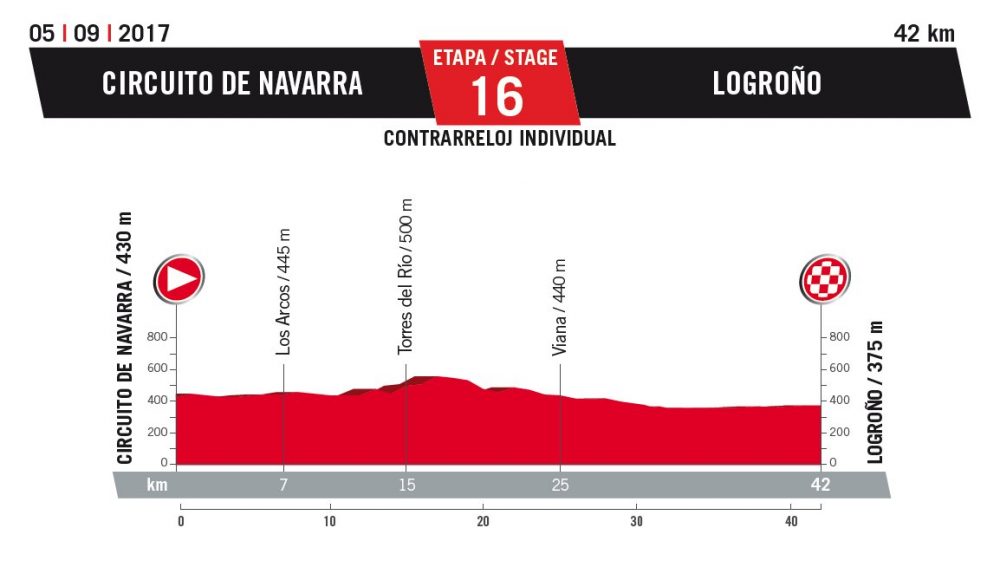 Froome has finished second three times in 2011, 2014 and 2016 and promised to return after being edged out by Nairo Quintana in September.
Quintana is unlikely to defend his red jersey having committed to ride in the Giro d'Italia and Tour de France this season.
There will still be time for the climbers to make a definitive move on the climb up Angliru, though, which returns for the first time since 2013.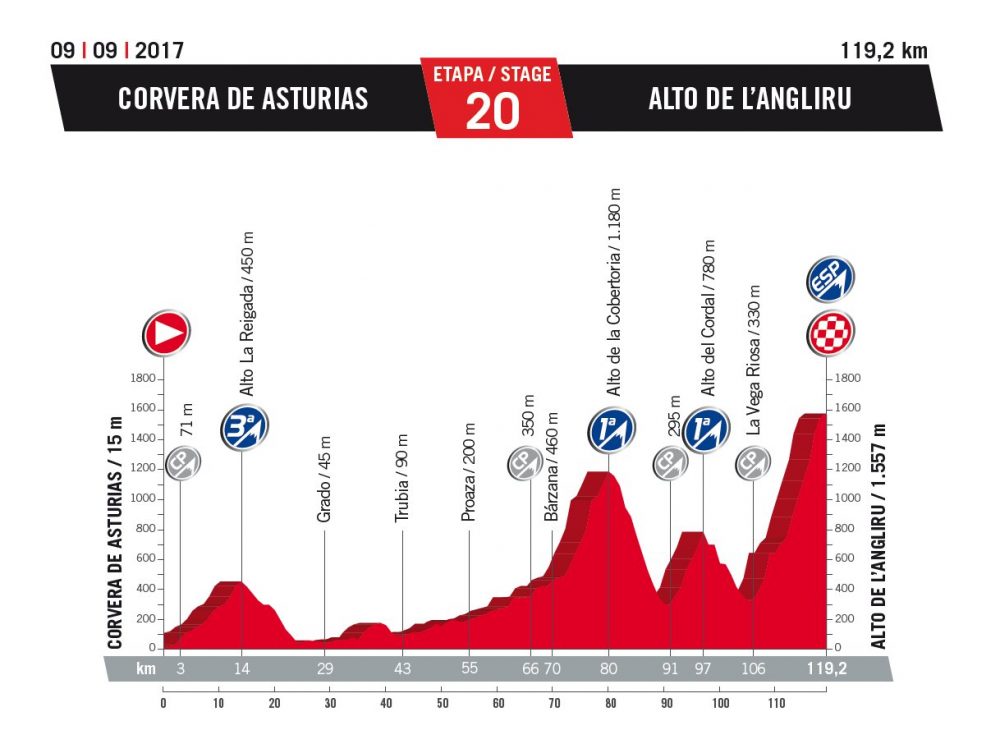 The 21 stages of the 2017 Vuelta a España, August 19-September 10
Stage 1: Nîmes-Nîmes (France), 13.8km team time trial
Stage 2: Nîmes-Gruissan-Grand Narbonne (France), 201km
Stage 3: Prades-Andorra La Vella, 158.5km
Stage 4: Escaldes Engordany-Tarragona, 193km
Stage 5: Benicassim-Alcossebre, 173.4km
Stage 6: Vila-Real-Sagunto, 198km
Stage 7: Lliria-Cuenca, 205.2km
Stage 8: Hellin-Xorret de Cati, 184km
Stage 9: Orihuela-Cumbre del Sol, 176.3km
First rest day
Stage 10: Caravaca-Elpozo Alimentacion, 171km
Stage 11: Lorca-Calar Alto, 188km
Stage 12: Motril-Antequera, 161.4km
Stage 13: Coin-Tomares, 197km
Stage 14: Ecija-Sierra de La Pandera, 185.5km
Stage 15: Alcala La Real-Sierra Nevada, 127km
Second rest day
Stage 16: Circuito de Navarra-Logrono, 42km individual time trial
Stage 17: Villadiego-Los Machucos, 180km
Stage 18: Suances-Santo Toribio de Liebana, 168.5km
Stage 19: Caso-Gijon, 153km
Stage 20: Corvera de Asturias-l'Angliru, 119.2km
Stage 21: Arroyomolinos-Madrid, 101.9km